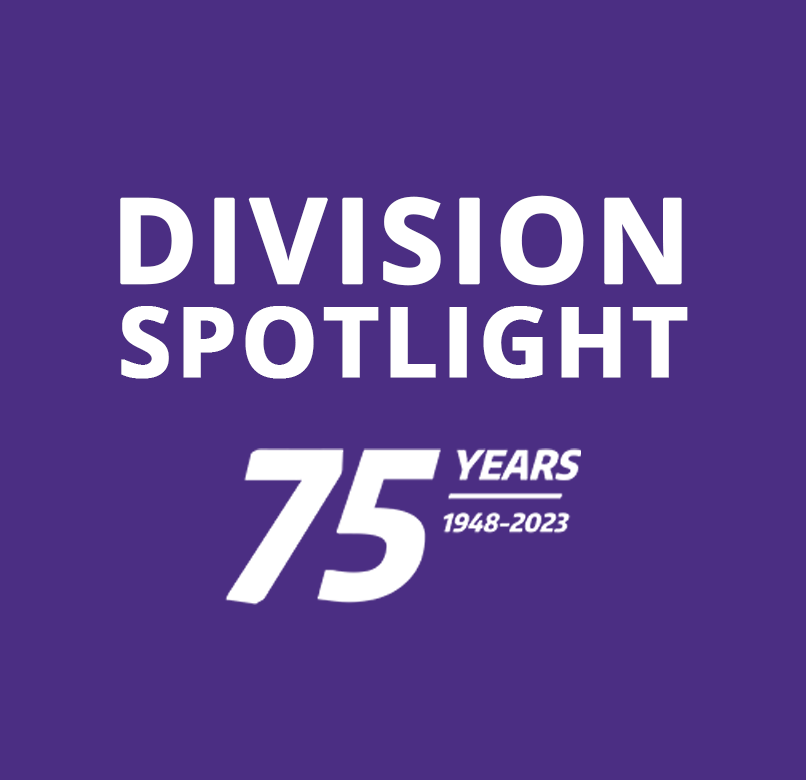 August 17, 2023
Division Spotlight: Medical Oncology
The Division of Medical Oncology was founded in 1963 by Dr. E. Donnall Thomas, who would go on to receive the Nobel prize in 1990 for his pioneering work in bone marrow transplantation.
Scroll for more

Back to top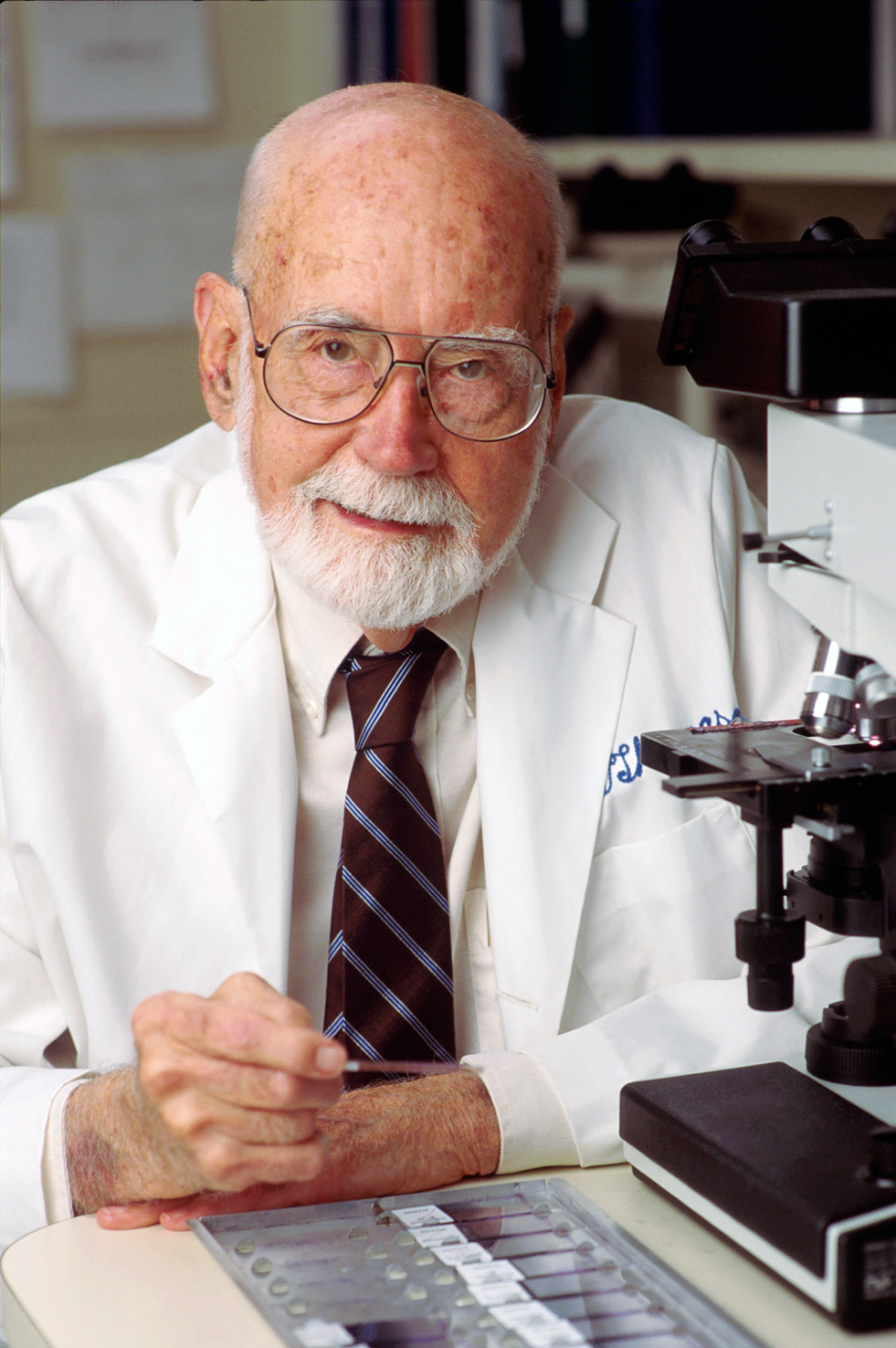 The University of Washington Division of Medical Oncology was founded in 1963 by Dr. E. Donnall Thomas, who would go on to receive the Nobel prize in 1990 for his pioneering work in bone marrow transplantation. He was the first to show that marrow could be safely infused into a human patient. Later he was the first to treat acute leukemia patients with marrow transplantation.
Celebrating 75 Years
As part of our 75th Anniversary, we plan to spotlight each of our divisions over the course of the year, in the order that they were established. Learn more about our 75th Anniversary on our website.
Today over 130 faculty members specialize in every facet of cancer detection, treatment, survivorship, research and mentorship. Our work bridges the worlds of basic science, clinical diagnosis, and the treatment of cancer. Our clinics cover each cancer type and have a strong focus in clinical trials of new diagnostic and therapeutic approaches. Our work is supported by a portfolio of peer-reviewed grants, industry sponsored projects, and research endowments.
Research
Collaboration drives the research of our division and makes extraordinary discoveries possible. Our faculty is well connected nationally and internationally through leadership in organizations such as the World Marrow Donor Association, the National Comprehensive Cancer Network, the American Society of Hematology, and the American Association for Cancer Research.
They are active in a number of team science grants including Specialized Programs of Research Excellence (SPOREs) in lung cancer and prostate cancer; Research Program Project Grants (P01s) in bone marrow transplant, and a Department of Defense Transformative Breast Cancer Consortium Award.
Most faculty members are involved in clinical trials, often in collaboration with many other institutions or coordinated through national and international oncology groups. Faculty members are active as leaders and investigators in all major adult clinical trial groups.
Notable research areas include:
Major contributions to bone marrow and stem cell therapy over many decades
Development of cell-based immunotherapy
Addressing financial toxicity of therapy
Immunotherapy to treat cancer
Risk-assessment model for acute myeloid leukemia therapy
Genomically driven personalized medicine for cancer treatment
Identification of germ line BRCA mutations in metastatic prostate cancer
Global approaches to breast cancer treatment
Leadership of practice changing trials for treatment of bladder cancer 
Patient Care
With one of the largest medical oncology faculties in the country, we specialize in every aspect of cancer prevention, detection, diagnosis, treatment, and survivor follow-up. People from around the world seek multidisciplinary care from our health professionals.
We have patient care sites across the state, from the Olympic Peninsula to the foothills of the Cascades. A 150,000 sq ft 6-story expansion to the main clinic in South Lake Union opened in March 2023.
Advanced therapies
Advanced, multi-disciplinary care to not only treat cancer but improve overall heath throughout the treatment and recovery process.
Genomically-driven personalized medicine for cancer treatment.
Hematopoietic stem cell transplantation, including bone marrow transplantation, pioneered by our first division head, Nobel Laureate E. Donnall Thomas, M.D.
Integrative oncology, evidence-based mind-body practices, acupuncture, natural products, or lifestyle modifications from different traditions alongside conventional cancer treatments.
Immunotherapy, using the body's own immune system to find and destroy tumors. We provide cellular immunotherapy (including CAR T-cells), antibody therapy and checkpoint inhibitor therapy.
Gene therapy, molecular "scissors" to repair or disable problem-causing genes.
Education
Our Hematology-Oncology Fellowship Training Program provides a rich and diverse educational experience. The mission of our ACGME-accredited fellowship is to provide an environment to develop the next generation of leaders in the fields of hematology and oncology.
By utilizing resources and mentors across multiple institutions we have developed a dynamic program individualized to the goals and experiences of each trainee. Our major focus is the preparation of fellows for burgeoning academic careers in basic science, translational research, clinical research and specialty areas such as global health and comparative effectiveness research.
Trainees also have the opportunity to collaborate with various disciplines within the University of Washington, including Genome Sciences, Immunology, Biochemistry, Bioengineering, Bioethics, and the School of Public Health.
The program is oriented toward development of academic oncologists and hematologists and offers two years of protected research time supported by two longstanding T32 grants in hematology and medical oncology/stem cell transplantation.
An NCI-funded K12 Paul Calabresi grant provides transitional funding for individuals who are developing independent research careers in pediatric and adult medical oncology.
We also offer an Advanced Practice Provider Fellowship in Oncology and Stem Cell Transplant; one of the few cancer APP fellowships in the United States.
Newly combined Division of Hematology and Oncology
On Aug. 1, 2023, Dr. Sara Hurvitz took the helm of the newly combined Division of Hematology and Oncology. By bringing together these two outstanding and accomplished UW divisions, we will build on the rich collaboration between our organizations to accelerate our research and education and ultimately improve care for our patients.
Leadership