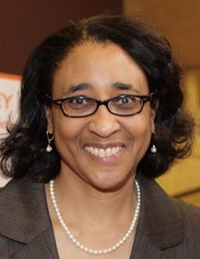 September 20, 2021
Dr. Bessie Young, professor (Nephrology) discusses the importance of the Pathway Programs and equity in healthcare.
Scroll for more

Back to top
"I was the only Black woman in my entering class," says Bessie Young, MD '87, Res. '90, MPH, the associate dean of healthcare equity. "I had other classmates who were both Black and non-Black who became my support system through medical school. I would not have made it through without them. My family was my other support system."
Not everyone is fortunate enough to have their family and support systems nearby, which is why the Pathway Programs — elective certificate-based programs that are part of the UW School of Medicine curriculum — place a heavy emphasis on community and mentorship among students, faculty, staff and the broader community.
The Pathway Programs began with the goal of providing medical students who wish to work with underserved or diverse communities with the skills and knowledge they need to better serve a particular community or population. And by fostering a sense of community and providing students with needed support through medical school, the Pathway Programs help to graduate future providers who may be from these communities themselves.
Currently, there are five Pathways. The Global Health Pathway is administered by the Department of Global Health, and the Underserved Pathway by the Department of Family Medicine. Three of the Pathways are administered by the newly created Office of Healthcare Equity (OHCE): the Latinx Health Pathway, the Indian Health Pathway and the LGBTQ Health Pathway. As the associate dean of healthcare equity, Young oversees their general direction, working closely with the directors of each Pathway.
Young's purview in her new role extends beyond the Pathway Programs. In essence, she aims to improve diversity, equity and inclusion throughout UW Medicine's curriculum, education, research and clinical efforts.
"We'll help the UW School of Medicine and UW Medicine focus on equity in everything that we do," she says.
If it sounds like a big job, it is, but it's one that she is uniquely prepared to take on.
Young has always been interested in working with underserved communities, and she has always been involved with issues of health equity, whether ensuring each of her patients is treated equitably or deciding to focus her research on the social determinants of health.
For over 20 years, she has used her expertise in epidemiology to uncover why some groups of people develop diseases more than others — specifically why conditions like diabetes and kidney disease disproportionally affect African Americans.
"When I got started in my career, I wanted to research something that really affected African Americans more than anything else, so it was diabetes and kidney disease," says Young, who has a cousin who developed a severe form of Type 1 diabetes along with many of the complications that come from it.
Young says that she definitely would have enrolled in any of the Pathway Programs had they existed when she was a student at the UW School of Medicine. In fact, she's very excited about a new Pathway in development: The Black Health Justice Pathway.
This new Pathway will explore how health disparities that affect Black communities in the U.S. stem from deep-rooted, institutionalized racism, and will give students the knowledge and tools to understand, assess and make progress against these inequities.
Students have been the driving force behind the creation of this new Pathway, which draws on a previously offered African American Health Disparities course. This motivated group of students — led by Jasmine Gault MS3, L'Oreal Kennedy MS3, Jeremiah Sims MS3 and Eileen Li MS3 — is developing learning objectives, clinical requirements and service-learning projects that will facilitate partnerships with Black community service organizations throughout the WWAMI region. They've been working closely with UW Medicine leadership as well as with Rayburn S. Lewis, MD '78, Res. '80, Chief Res. '83, retired from leadership at Swedish Hospital and International Community Health Services, on curriculum development and funding.
"I'm walking into something that started before I came to OHCE. This Pathway was student initiated. They created it. And I'm just here to make sure it happens," says Young. What makes this Pathway special, says Young, is that students are involved at every step of the decision-making process, which could indicate a new direction for medical education in general.
"In many ways, such as with social justice issues, students know more than a lot of our faculty," says Young. "It's important that we teach our students how to take care of patients from all different backgrounds, but it's also important to give our students the ability to communicate with faculty who may not be as up to speed as they are … so we learn from the students and the students keep us on our toes. It's also important for us to engage students to develop ways to advocate for all our patients. These students and the others who developed some of the other Pathways have done just that."
No matter which Pathway a student may decide to take, all Pathways share the same goal: to make healthcare more equitable and inclusive. And Young's vast experience and skilled leadership will, no doubt, point us in the right direction.
Written by Eleanor Licata
See the story at UW Medicine