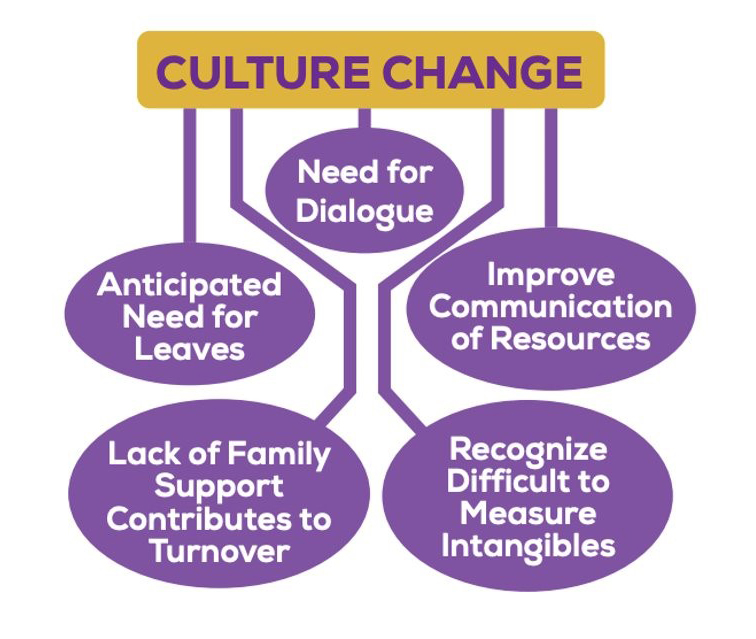 August 7, 2023
A shared mental model for family support
Our Gender Equity Council conducted focus groups to understand the barriers to supporting employees with families and to explore what an ideal model of support for faculty, staff, and trainees with families might look like.
Scroll for more

Back to top
Working caregivers in medicine, particularly women, must balance the needs of their families, patients, and other work responsibilities with limited support and resources.
"Learning how to manage a two-year-old is intensely useful in one's work life"
The context and climate of academic medicine reinforce gender inequities and lead to increased burnout in women physicians, gender pay inequities, and decreased opportunities for career advancement.
Stressors associated with work-life integration are highest in women with children and have been exacerbated by the COVID-19 pandemic.
To inform efforts to improve gender equity in the Department of Medicine, we sought faculty and staff perspectives to understand the barriers to supporting employees with families and to explore what an ideal model of support for faculty, staff, and trainees with families might look like.
Methods
Five focus group interviews were conducted via video conference in the winter of 2022 with faculty and staff recruited from three hospitals.
Trained facilitators led participants in discussions about perceived barriers to taking time away from work, caregiving needs for those in the department, and what the department could do to better support employees with families.
Audio recordings were transcribed and analyzed using conventional content analysis.
Results
24 employees of the Department of Medicine took part in interviews.
4 (17%) staff, 19 (79%) physicians, and 1 (4%) advance practice provider.
3 (13%) identified as male and 21 (88%) identified as female.
Three categories described the domains of the focus group discussions: home, work, and solutions.
Challenges at home
Childcare
(Trustworthy, availability/timing, building community, cost)
"The cost of childcare feels like a burden for us as a two physician household, and for my MAs, nurses and front desk staff, it's a million times more."
Eldercare
"My father has a long-term illness and I need to be with him and take him to his appointments ... I feel like I'm doing a pretty bad job at being his child."
Family
(Family support, impact of work on family, importance of presence at home)
"I want to take care of my family, and I want to take care of my household, and I don't want the solution to be for me to have money or funds to outsource my life to others."
Challenges at work
Culture
(Leadership, variability across divisions, transparency, promoting community, benefits of investing in employees)
"One of the great things to come out of the pandemic has been people not coming to work when they're sick. There's also much more of a culture of people checking in with each other:  'I know you have two young kids, and this has been hard, how are you doing?'"

Safety
(Psychological, physical)
"I would say my experience of psychological safety across the board has really run the gamut. I have seen leadership be upset when someone comes and says 'I'm pregnant, I want to take maternity leave,' and that sets the tone."
Structure
(Staffing, systems of work, scheduling flexibility)
"The work does not end. Whether it's the academic work or anything else, there is literally no end to the amount of stuff that we can do for our hospitals, for our patients, for the university, for our coworkers, and there's no limit that we can set on it."
Systems of inequities
(Gender-related, impact on those with families vs. those without
families, other (e.g., salary)
"Just seeing the inequities ... especially how women fall into this group of being at a disadvantage, simply by being mothers. It's really disappointing and disheartening to hear."
Career impact
(Promotion/power structure, professional identity)
"I think there's a perception that the only way you advance - successfully get a raise, a title change, start to get some training that you can shift to another position - is to take on more work. But very rarely is any work taken off your plate. So you end up just working until you're burnt out, or, honestly, sometimes the quality of your work is decreased because you're trying to focus on this other thing, and that's no good either."
Conclusions
Participants identified barriers at home and work to feeling that they and their family life are supported as employees in the Department of Medicine. Systemic challenges identified within the department included cultural and structural issues as well as the perpetuation of societal inequities.
In rich focus group discussions, participants were able to propose a number of solutions, including aspects of necessary culture change. We plan to use these results to inform future discussions in the Department of Medicine.
possible solutions
Resources
Onsite childcare, backup coverage system/additional staffing.
"Having onsite options for childcare for all faculty and staff in the hospital."
Policy change
"Everybody has a reason to step away from work; it's not just about childbearing [and] caregiving, you know. Everybody has people in their lives that they might need to attend to, so I would hope that would be a popular policy for everyone."
Look to other organizations
"I have a friend at another organization who can't see patients if the kids aren't in school yet, and so she asked if they could do a trial run of a midday clinic ... 10-2 or something like that ... all of a sudden, they had all these people start booking those appointments."
Culture change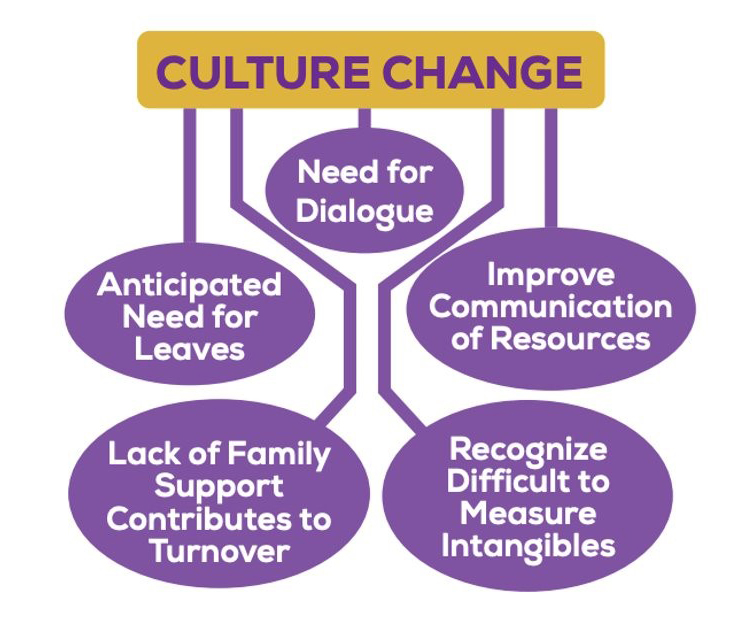 next steps
Present results to leadership and other stakeholders.
Create a dialogue about solutions with faculty, staff and trainees.
Create culture change in our department.