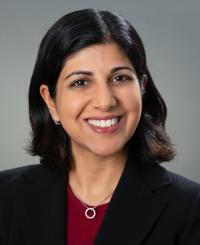 July 21, 2020
Dr. Nisha Bansal, 2020 recipient, ASN Distinguished Researcher Award
ASN Midcareer Awards identify those who exemplify the very best in the field of nephrology and recognizes their work in the fight against kidney diseases.
Scroll for more

Back to top
The Distinguished Researcher Award recognizes individuals who have made substantial research contributions to the discipline of nephrology, and display innovation and excellence in research to advance the science and/or practice of nephrology.
Dr. Bansal is associate professor of medicine with the University of Washington Division of Nephrology, and associate director of the nephrology fellowship program. Her recent honors include the Arthur Stach Family Endowed Professorship, UW Housestaff Scholarship Mentor Award, UW Fialkow Scholars Award, NIDDK Mentored Career Development Award, among others.
Learn more about the American Society of Nephrology