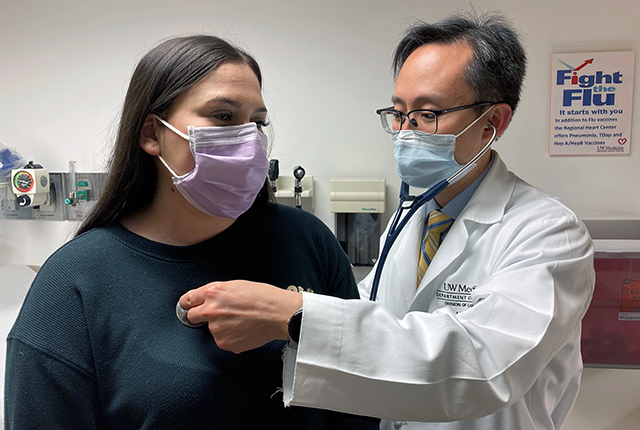 July 14, 2023
In historic procedure, donor liver protects heart transplant
A UW Medicine team saved a patient with a dual-organ transplant based on a concept about immunoprotection.
Scroll for more

Back to top
Doctors in Seattle are reporting a history-making case in which a patient received two donor organs, a liver and a heart, to prevent the extremely high likelihood that her body would reject a donor heart transplanted alone. In doing so, they successfully tested the concept that a donor liver can confer robust immunoprotection on a subsequent heart transplant.
The dual-organ recipient, Adriana Rodriguez, 31, of Bellingham, Washington, has recovered well since the Jan. 14, 2023, procedures, said Dr. Shin Lin, associate professor (Cardiology). He is the lead author of the paper describing the novel approach, newly published in the Journal of Heart and Lung Transplantation.
Heart-liver transplants to one recipient are seldom performed, Lin said. In fact, this was the first such case for UW Medicine surgeons. In cases previously reported in literature, the patients have needed the two grafts to replace both failing organs.