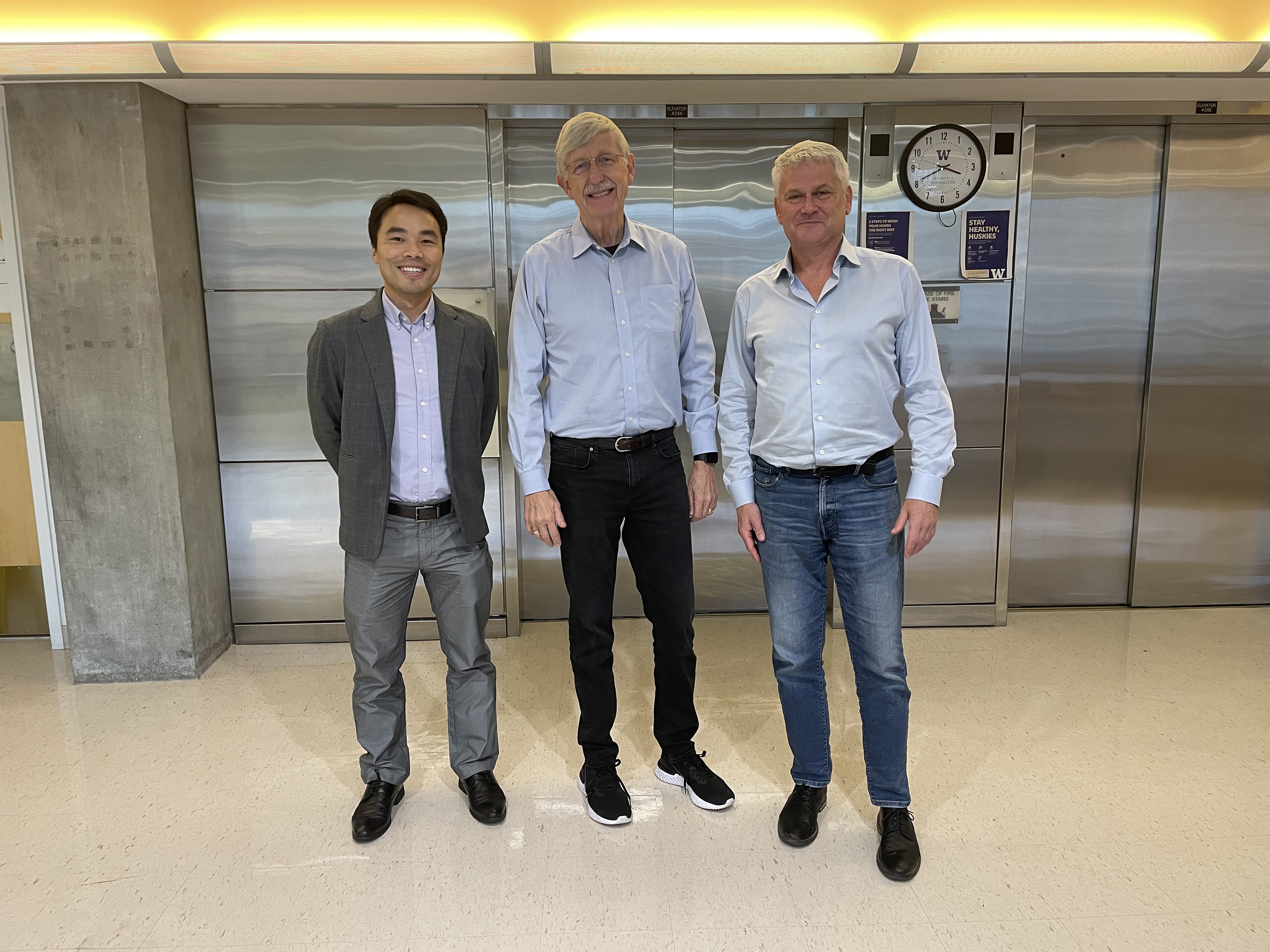 November 16, 2022
In vivo approach to treat sickle cell disease and beyond
Drs. Chang Li and André Lieber recently met with Dr. Francis Collins when he visited the University of Washington to discuss their research.
Scroll for more

Back to top
Drs. Chang Li, research assistant professor, and André Lieber, professor (Medical Genetics) recently met with former NIH Director Dr. Francis Collins, when he visited the University of Washington to discuss their new in vivo approach to treat sickle cell disease (SCD) and beyond. Collins is currently President Biden's acting scientific advisor.
Sickle cell disease is a group of inherited red blood cell disorders that affect hemoglobin, the protein that carries oxygen through the body. The condition affects more than 100,000 people in the United States and 20 million people worldwide. 
Collins received the inaugural Founder's Award and delivered the keynote lecture at the ASGCT conference in May.
During his keynote address at American Society of Gene and Cell Therapy (ASGCT) annual conference in May, Collins highlighted Li and Lieber's work using in vivo targeting of hematopoietic stem cells using an adenovirus carrying the fetal globin gene and a CRISPR construct to knock out the upstream binding site of the well-known BCL11A repressor. 
The work essentially "cures SCD in a mouse model," Collins said. And he could not resist noting that he led the discovery of that upstream globin variant as a postdoc way back in 1985, in work published in Nature. Along with unpublished data from Intellia, Collins said this approach is "not so pie in the sky as I'd have thought a couple of years ago."
Clearly, ex vivo therapy for 100,000 SCD patients is out of the question, even before acknowledging that most of the patients are spread across Africa and India. "We have to come up with a strategy" to help these patients, Collins said.
In a collaboration with the Bill and Melinda Gates Foundation, NIH is mounting an effort for a one-shot SCD cure that could be administered in a low-resource setting. Ambitiously, Collins said his team thought, "let's cure HIV at the same time."
Li and Lieber said they were impressed by how many details Collins already knew about their studies in the SCD mouse model. During the meeting at the University of Washington, they provided Collins with a realistic idea about their approach, the potential, and the hurdles that need to be addressed.