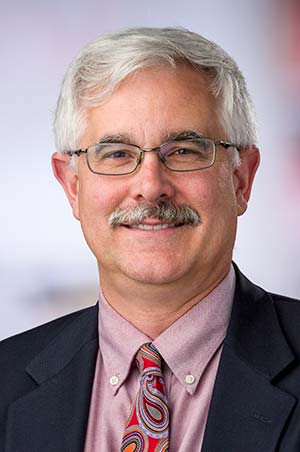 March 14, 2023
Immunotherapy for advanced chondrosarcoma
Advanced chondrosarcoma – 'shark' cancer – has no standard treatments beyond surgery, but a Fred Hutch oncologist is exploring a new option for patients.
Scroll for more

Back to top
The more than 170 types of sarcoma come in a "great variety," according to Lee Cranmer, MD, PhD, a Fred Hutchinson Cancer Center oncologist and researcher.
One of them, chondrosarcoma, is a cancer of the cartilage, the firm-yet-flexible connective tissue that makes up our noses and ears and protects and connects our bones, allowing our skeletons to move smoothly. Sharks, whose skeletons are made completely of cartilage, can suffer from chondrosarcomas, as can humans, including Cranmer's patient, Mark Schuck, a retired fisheries biologist.
The primary treatment for chondrosarcoma is surgery.
"As a generalization, there are no other treatments," Cranmer said.
Cranmer told Schuck that it was possible that immunotherapy could be beneficial, but he'd need molecular testing to see if there were genetic markers present that backed up his hypothesis. 
Once the results came in, Cranmer identified a finding that made him optimistic that immunotherapy would work, although it is not approved for Schuck's type of cancer.
"I was making an educated guess that this is what we should try," Cranmer said.
Cranmer's team was able to obtain pembrolizumab, an immunotherapy drug, on a compassionate use basis for Schuck, free of charge. 
Schuck received his first infusion in September 2021. In less than three weeks, he was able to manage his pain with over-the-counter medications; within six weeks, he was off all pain relief.
"He's had a dramatic and unexpected response despite there being no standard treatment for his condition," Cranmer said. "Usually, nothing stops this disease, yet he is back to fishing, his pain went away, and he has gained weight."
Cranmer is working to develop a clinical trial for a subset of patients like Schuck.
"We now have five patients with chondrosarcoma who have taken immunotherapy and responded dramatically," he said.
Cranmer published the first case he observed and is preparing another case for publication, part of a campaign to get immunotherapy manufacturers to provide the drugs to patients.
"There are a variety of medications in this class that are all different flavors of the same thing," he said. "I just want someone to provide me the drug so we can give it to these patients and try. Seeing immunotherapy work in five people says to me that it's not a one-off. There is some real underlying biology that we can go after to help our patients. But they cannot wait for us to figure out the whole story — they need help now."
The sort of jaw-dropping results that Schuck experienced foreshadows long-term control.
"We believe it is likely that he will benefit for a long time and hope it would be indefinitely," said Cranmer.

Bonnie Rochman is a staff writer at Fred Hutchinson Cancer Center who writes the patient blog. A former health and parenting writer for Time, she has written a popular science book about genetics, "The Gene Machine: How Genetic Technologies Are Changing the Way We Have Kids—and the Kids We Have." Reach her at brochman@seattlecca.org.