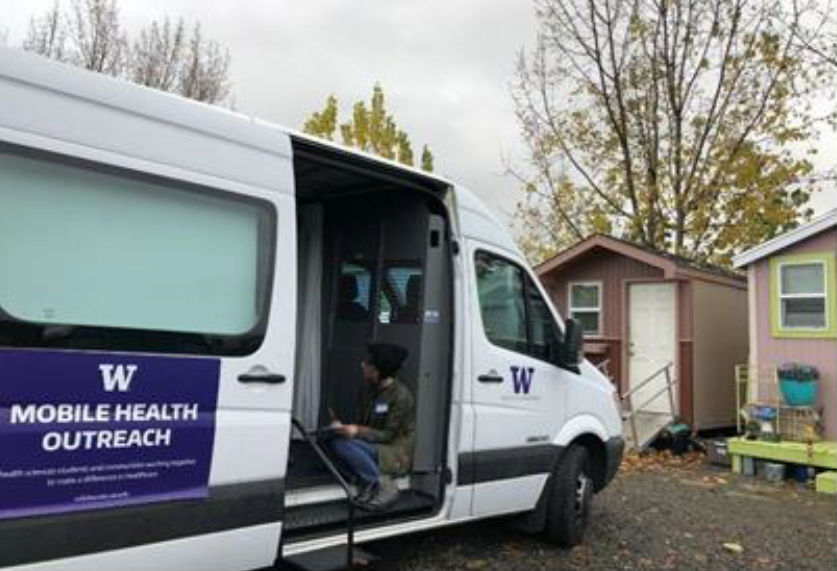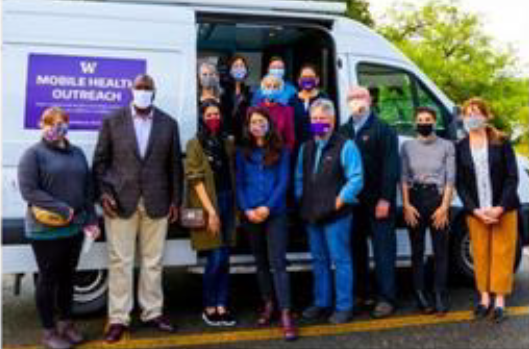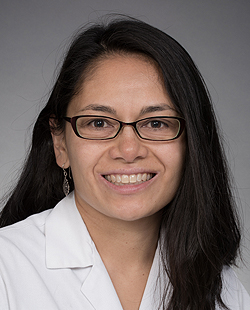 October 27, 2023
HMC Mobile Health Outreach Program
The Harborview Medical Center Mobile Health Outreach Program brings community health outreach services directly to local Tiny House Villages, free of charge.
Scroll for more

Back to top
Collaborative initiative for outreach medicine
The Harborview Medical Center Mobile Health Outreach Program (HMC MHO) was established in 2021 as a collaborative initiative between Harborview Medical Center and UW Health Sciences in partnership with the Low Income Housing Institute.
The HMC MHO is driven by the work of students from the Schools of Medicine, Public Health, Social Work, Nursing, Pharmacy and Dentistry and leadership from the Center for Health Sciences Interprofessional Education (CHSIE), HMC Downtown Programs and UW School of Medicine Service-Learning.
It is led by Division of General Internal Medicine's Dr. Genevieve Pagalilauan (UW School of Medicine Service Learning Co-Lead), Drs. Aynsley Duncan and Jocelyn James (MHO Medical Directors), as well as the Department of Bioethics and Humanities' Dr. Tracy Brazg (Interprofessional Education Director). Numerous Department of Medicine faculty are involved as faculty preceptors.
Meeting People Where They Are
Equipped with the specially-outfitted Health & Outreach Van, the HMC MHO team works to meet the needs of medically underserved community members.
Two times per month, the program makes visits to two of the Low Incoming Housing Institute's Seattle-based Tiny House Villages.
The Low Income Housing Institute develops, owns and operates housing for the benefit of low-income, homeless and formerly homeless people in Washington State and administers a range of supportive service programs to assist those we serve in maintaining stable housing and increasing their self-sufficiency.
During on-site visits, students and faculty preceptors offer basic clinical services including urgent care, wound care, and connection with referrals to primary care.
These bimonthly outreach events host a regular resource table that provides patient navigation, distributes basic care supplies and facilitates connections to community resources.
All of the program's services are supported by grants and donations and are free of charge for recipients.
The HMC MHO program centers its mission on building trust and reliability. By building relationships and providing consistent, compassionate care, the program aims to bridge a gap that exists for many individuals and families experiencing homelessness, housing insecurity and other barriers to healthcare.
Part of building those relationships and trust is meeting people where they are – the act of parties working together to mutually establish goals and delivering services in a manner consistent with what is desired and expected by those you serve.
The MHO team does this both physically and interpersonally. The Mobile Health Outreach Van enables the MHO team to bring services directly to a familiar and comfortable atmosphere, eliminating the barrier of travel time and cost.
The team also creates a judgement-free space and provides a range of free services and resources that enable residents to engage as they wish.
Get involved
The HMC MHO program offers interprofessional, in-the-field training for learners in outreach medicine skills, cultural humility, and interprofessional communication skills.
Students can get involved through the Center for Health Sciences Interprofessional Education, Research and Practice.
Faculty at Harborview Medical Center are welcome to volunteer as preceptors, please contact Dr. Pagalilauan (jadepag@uw.edu) for more information.