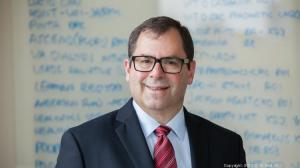 June 10, 2021
ASN bestows Lifetime Achievement Award to Dr. Jonathan Himmelfarb
The Belding H. Scribner Award is presented annually to one or more individuals who have made outstanding contributions that have a direct impact on the care of patients with renal disorders or have substantially changed the clinical practice of nephrology
Scroll for more

Back to top
Dr. Jonathan Himmelfarb is the recipient of the American Society of Nephrology's 2021 Belding H. Scribner Award.
Dr. Himmelfarb is a professor of Medicine, adjunct Professor of Bioengineering, Director of the Kidney Research Institute, Co-Director of Center for Dialysis Innovation, and holds the Joseph W. Eschbach MD Endowed Chair for Kidney Research in the Department of Medicine, Division of Nephrology, University of Washington. He is the author of more than 320 highly cited scientific publications.
Dr. Himmelfarb's research and clinical achievements are internationally recognized, and he has been a tour de force for patient advocacy and well-being, and improving kidney care.  
As the inaugural Director of the Kidney Research Institute (KRI), Dr Himmelfarb has built a highly successful, team science based clinical and translational research program, and has led efforts to engage patients as participants in the design of research, as well as developed and mentored physician scientists who are conducting groundbreaking clinical and basic research.
Dr. Himmelfarb's research spans diverse areas that have propelled major advances in kidney research and care.  He was one of the first investigators to examine the adverse effects from the use of bioincompatible cellulosic hemodialysis membranes. In a series of seminal publications, he improved understanding regarding how the loss of kidney function directly contributes to increased oxidative stress, inflammation, insulin resistance and endothelial dysfunction, and ultimately cardiovascular risk in kidney disease. Dr Himmelfarb has pioneered major vascular access research since the 1990's. His work has also changed practice relative to treating acute kidney injury (AKI), publishing a series of landmark studies examining the epidemiology of AKI.
Dr. Himmelfarb helped develop microphysiological systems (MPS) for kidney disease modeling and drug efficacy and toxicity testing. He co-founded the Center for Dialysis Innovation (CDI) creating substantial technical progress and bringing together dialysis innovators from around the world to advance technologies in a pre-competitive space. His current investigations include developing new disease ontologies, disease classification systems, and treatments for acute kidney injury and chronic kidney disease. 
Dr. Himmelfarb received his medical degree from the George Washington University School of Medicine, completed his residency at Maine Medical Center, and completed his nephrology fellowship at Brigham and Women's Hospital.
Dr. Scribner spent his entire faculty career at the University of Washington in Seattle where he was Head of the Division of Nephrology. He and his co-workers established the world's first out-of-hospital dialysis unit, developing a home hemodialysis program, improving techniques and equipment, and studying the adequacy and complications of kidney diseases. Dr. Scribner's contributions transformed nephrology.
Dr. Scribner and colleagues played a major role in persuading Congress to fund the Medicare ESRD Program. His scientific contributions, his training of physicians interested in dialysis, attention to ethical concerns, and commitment to the care of patients provide an outstanding example of dedication to the care of people with kidney diseases.