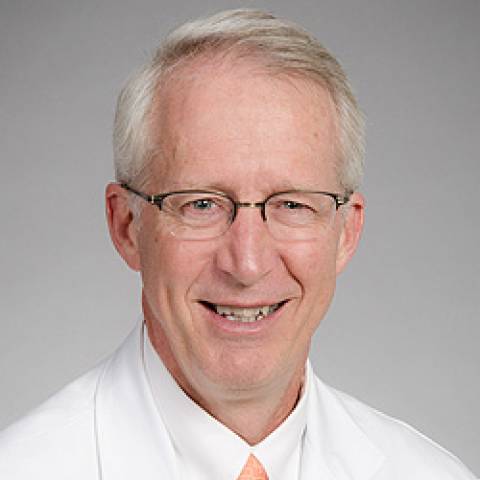 April 22, 2022
Robb Glenny stepping down as division head
He has led the Division of Pulmonary, Critical Care and Sleep Medicine since 2005.
Scroll for more

Back to top
Robb Glenny was raised in rural Minnesota. He earned a bachelor's degree in biomedical engineering and a master's degree in computer science, both from Duke University, received his MD degree in 1984 from the University of Virginia and completed his internship and residency at Duke University. 
He joined the University of Washington in 1987 as a fellow, rose through the ranks to professor, and has been head of the Division of Pulmonary, Critical Care and Sleep Medicine since 2005. He holds a joint appointment in the Department of Physiology and Biophysics, and the Endowed Chair in Pulmonary Research.
He is an accomplished clinician, researcher, teacher and administrator who has established himself as one of the leaders in the field of pulmonary and critical care medicine both nationally and internationally and is considered an authority in the field of heterogeneity of pulmonary blood flow.
A John Simon Guggenehim award and Fogarty Senior International Fellowship help to support a year-long visiting professorship in the Department of Anesthesiology and Intensive Care at the Karolinska Institute and Hospital.
Under his leadership, the division grew significantly from 30 to now 100 faculty members while enhancing its international recognition for the breadth of its training program, clinical expertise, and innovative research. In 2017, Sleep Medicine was added to the Division's name to better reflect the scope of the clinical work, training and scholarship in the division.
Some noteworthy achievements include establishing the Center for Lung Biology, championing interdisciplinary critical care training and clinical care and supporting division faculty who built many innovative programs that include, but are not limited to, the International Respiratory and Severe Illness Center, Adult Cystic Fibrosis Program, Center for Interstitial Lung Disease, Cambia Palliative Care Center of Excellence, Firland Northwest Tuberculosis Center, and fellowship education.
During his tenure, the division, in partnership with the Department of Medicine, created the following endowments: Bruce Montgomery, M.D. – American Lung Association Endowed Chair in Pulmonary and Critical Care Medicine; David J. Pierson, M.D. Endowed Professorship in Pulmonary and Critical Care Medicine; and Endowed Professorship Supporting Patients with Interstitial Lung Disease in Honor of Ganesh Raghu, MD.