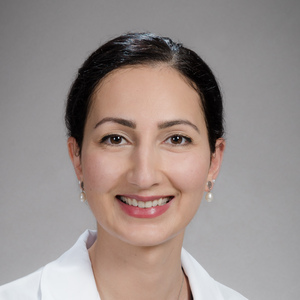 May 26, 2022
Faculty Spotlight: Dr. Nauzley Abedini
Dr. Nauzley Abedini, assistant professor (Gerontology and Geriatric Medicine) enjoys having a balance of clinical, administrative, educational, and scholarly activities in her work life.
Scroll for more

Back to top
Background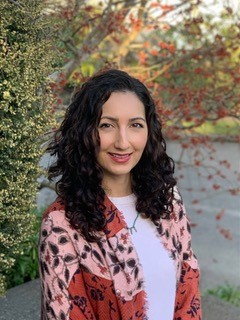 Abedini's career-long passions for global health, education, health systems strengthening and palliative care began early on while attending medical school at the University of Michigan Medical School.
Among many memorable mentors and advisors over the years, Dr. Joe Kolars (Associate Dean for Education and Global Initiatives at the University of Michigan) encouraged her to follow these passions during her first year of medical school and remains a close mentor to this day.
She said, "he really fed my curiosity and encouraged me to take every experience and put it in my toolbox, recognizing that over time, those experiences would help me build something unique and special."

"He encouraged me to be true to myself and to embrace the 'switchbacks' along the way, to not feel beholden to traditional paths, and helped hold up the mirror for me to reflect along the journey."
Abedini pursued her interest in global health during medical school as a Fogarty Global Health Fellow working in Kumasi, Ghana.
After medical school, she continued to the University of Washington for internal medicine residency and then back to the University of Michigan to serve as a hospitalist and health services research fellow in the National Clinician Scholars Program. Her path then took her to the University of California, San Francisco for Hospice and Palliative Medicine Fellowship where she was also a Global Fellow in the Global Palliative Educational Consortium (GPEC) - a collaborative educational initiative between UCSF, Harvard, and Tulane.
Abedini came back to the University of Washington as an assistant professor in 2020.
Clinical and Education
Clinically, Abedini currently attends on the inpatient Palliative Care Consult Service and the inpatient general medicine resident teams at Harborview Medical Center.
"I love that these roles bring me in close proximity with learners of all levels – students, residents, and fellows – and from a number of specialties within and outside the Department of Medicine," she said.

"Seeing learners grow and develop their professional identity and a sense of efficacy and impact are some of the best aspects of my job."
She also works closely with residents as the recently appointed Assistant Program Director for Wellness in the Internal Medicine Residency Program. In this role, she has direct oversight of all activities in the residency that are related to resident wellbeing, including collaborating with residents, faculty and staff to create innovative strategies around supporting residents in being well in all aspects of their professional and personal lives.
Some of the residency program activities that she is most looking forward to are planning for the upcoming arrival of new internal medicine interns and introducing to them the new Culture of Wellness - providing them new frameworks and strategies to think about their wellness early in their training.
"I'm hoping this will set the stage for the longitudinal curriculum I want to develop. The frameworks draw upon strategies I learned in a leadership coaching program, and I'm excited to pilot and test some of those strategies with our trainees."
Cambia Palliative Care Center of Excellence
Abedini co-leads the Cambia Palliative Care Center of Excellence's (CPCCE) Global and Cross Cultural Palliative Care Initiative, is a consultant to the Cambia Palliative Care Training Center, and is a member of the CPCCE's Equity, Diversity, and Inclusion Committee.
Abedini is also the Principal Investigator on several CPCCE research collaborations with colleagues in the Department of Medicine as well as in the Departments of Neurology and Global Health.
"I enjoy bringing a scholarly lens to thinking about how we can improve palliative care delivery to diverse patients and their families dealing with serious illness, and specifically thinking about how we can develop and educate our workforce to be empowered to deliver high quality palliative care at the front lines."
She is also a co-director for the upcoming Cambia PNW Palliative Care Conference on June 13th.
The 2022 Pacific Northwest Palliative Care Conference is focused on "Lifting Voices & Building Bridges: Working Towards an Inclusive Future for Palliative Care." The Conferences serves as a forum for clinical and community palliative care professionals throughout the region to discuss current topics in palliative care and share perspectives and best practices from across the discipline.
Looking forward to the conference, Abedini is "very excited for our line-up of speakers and the focus on equity, diversity, and inclusion.
"This will also be my first in-person conference in several years, so it will be great to reconnect with old colleagues and meet new ones."
Program Design
For several projects, Abedini is working to employ a human-centered design (HCD) approach to developing interventions to serious illness communication and care delivery to diverse patients with stroke both domestically as well as in Lima, Peru.
Introduced to her by Dr. Randall Curtis, professor (Pulmonary, Critical Care and Sleep Medicine), she has been finding ways to incorporate HCD in various aspects of her work.
HCD is an inclusive, iterative framework for program planning and intervention in which end-users participate in defining problems and designing and implementing prototypical solutions. In human-centered design, Abedini says "no problem is too big, and no idea is to wacky or wild – in fact, there is an emphasis on listening to 'outliers' as these individuals are often the most disenfranchised and often need to be heard."
She continues, "I love this framework because it has social justice at its very core. What matters most is every voice is heard, and end-users are more likely to use your intervention because they were involved in every step of its development. It's beautiful!"
Abedini hopes to also utilize HCD for creating a wellness inventory to identify gaps and opportunities to develop a longitudinal skill-based wellness curriculum for the internal medicine residency program.
Personal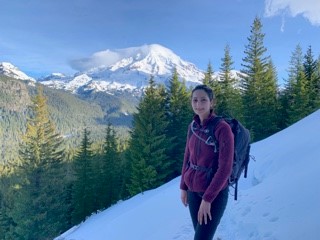 Abedini is a native of the Pacific Northwest and, naturally, loves staying active outdoors with her partner, often with hiking and recently, snowshoeing.
Some of her interests include "listening to live music of all kinds, watching movies, trying new recipes (recently rocked a stir fry with peanut sauce), trying out new types of cider (big fan of Finnriver in Port Townsend), and ice cream is a guilty pleasure."
She is also excited for her upcoming wedding in September and to be able to celebrate with close friends and family. "My partner and I will be traveling to Europe afterward and I'm really excited to travel after being in pandemic mode for so long!" Congratulations!