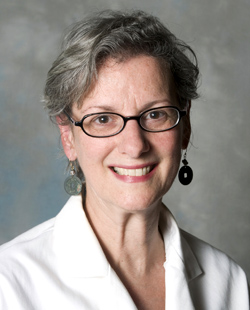 August 2, 2022
Faculty Spotlight: Nancy Sugg
Dr. Nancy Sugg develops and supports innovative approaches to improve health for vulnerable persons: often those with homelessness, mental illness, and/or addiction.
Scroll for more

Back to top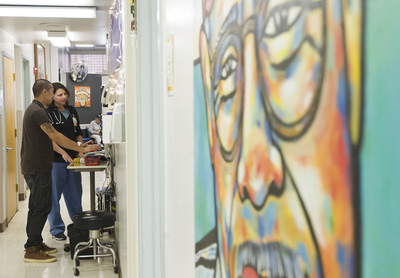 Dr. Nancy Sugg, clinical professor (General Internal Medicine) started her career at Harborview Medical Center in 1986 as medical director of the Southeast Asian Refugee Clinic.
In 1991, she became medical director of the Pioneer Square Clinic and Downtown Homeless Healthcare Programs (PSQ Program).
She has advanced many relationships with local, state, and federal agencies to develop and support innovative approaches to improve health for vulnerable persons: often those with homelessness, mental illness, and/or addiction. 
These healthcare initiatives have created coordinated strategies involving on-site, wrap-around services such as social work, behavioral health, nutrition, podiatry, psychiatry, office-based opioid treatment, and high-risk diabetes management: approaches that have subsequently become best practices for many outreach clinics around the United States.
With Sugg's leadership, the PSQ Program has grown to six sites that connect with patients on their terms and in their environment in order to improve health in a cost-effective manner.
The program also includes the Medical Respite Program, which serves as a critical resource to support transitional healthcare following hospitalization. The PSQ Program also involves mobile healthcare teams that provide unique services to include palliative care and outreach to those previously incarcerated in King County jails. 
Collectively, these initiatives bring together over 100 multidisciplinary providers to advance care for those most in need while also supporting a formative opportunity for UW residents and faculty to participate in medical education and develop academic careers.
The PSQ Program have been recognized as a national model for health equity receiving the Foster McGaw Prize for Excellence in Community Service and the Warren Featherstone Reid Award for Excellence in Healthcare.
Sugg's pioneering clinical and programmatic efforts are complimented by her outstanding teaching and administrative leadership. This all-around excellence is highlighted by her selection as the Washington State ACP Internist of the Year, Seattle Business Magazine Leaders in Health Care Award, and the Department of Medicine's Marvin Turck Award. Throughout her career, she has served as an important spokesperson for those most at-risk through service, partnership, publication, and presentation, working with a wide range of individuals, organizations, and audiences. 
Dr. Sugg continues to be integral to HMC and UW serving in a range of clinical, administrative, and community partner roles as she supports the next generation of HMC faculty and leadership.