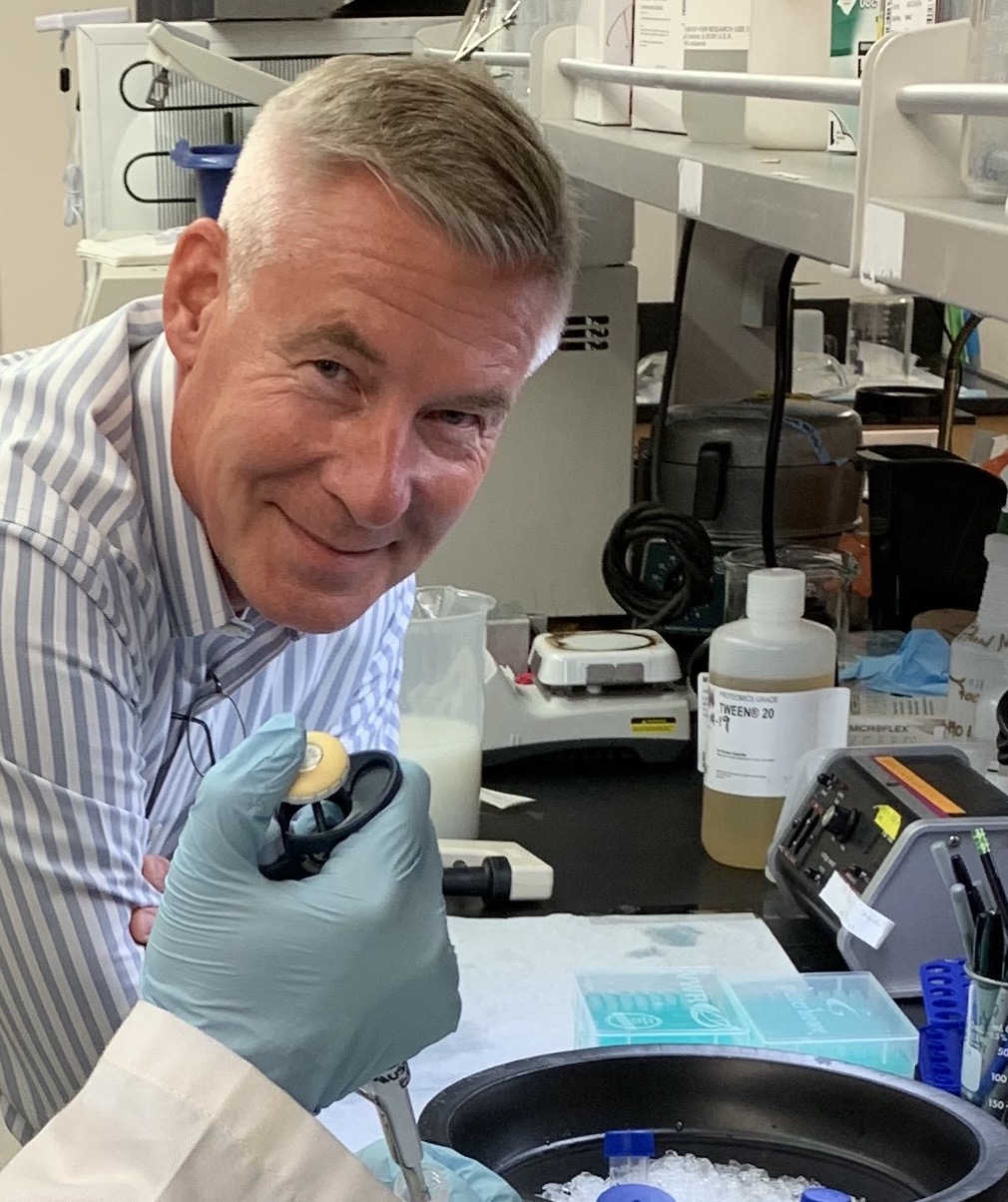 March 9, 2023
Faculty Spotlight: Tomas Mustelin
Tomas Mustelin, MD, PhD, professor, is the Division Head for Rheumatology and holds the Mannik-Henderson MD – Lucile T. Henderson Endowed Professorship in Rheumatology.
Scroll for more

Back to top
Background
Mustelin was born in Copenhagen, Denmark and received his MD and PhD from the University of Helsinki, Finland. It was there that he met his thesis mentor and life-long friend, Dr. Leif Andersson (Professor of Pathology, U. Helsinki).
"He has had a profound influence on my entire career," Mustelin said. "He has been a role model fueling enthusiasm for discovering the unknown, for honesty and fairness, not to mention his unforgettable quotes of wisdom."
He then pursued his post-doctoral research at the Scripps Clinic in La Jolla, California and continued his research career at the La Jolla Institute for Allergy and Immunology and The Burnham Institute for Medical Research for another 15 years.
He said he then shifted gears, taking a "brief sabbatical" in industry research and development. During his over 10 years of industry experience, he led the discovery of several FDA-approved drugs for autoimmune, inflammatory/respiratory diseases and immune-oncology.
"The driving force behind my research has always been the hope that it will benefit patients," he said.
Research
Mustelin came to the UW Division of Rheumatology in 2018 where he has continued his already extensive research career. His current research is focused on the molecular underpinnings of rheumatoid arthritis (RA), systemic lupus erythematosus (SLE), ANCA-associated vasculitis (AAV), primary Sjögren's syndrome (pSS), and other autoimmune conditions.
As a physician-scientist, he particularly enjoys opportunities for mentoring and motivating early career faculty and scientists. He has an extensive and productive training record, with many of his trainees going on to become leaders within their field.
"I am thrilled about scientific research and seeing mentees experiencing the excitement of discovering something brand new."
One particularly proud moment for him is a recent discovery made by his mentee, namely that granulocytes from patients with lupus have a profoundly abnormal machinery for RNA splicing. This results in both altered protein function and the generation of peptides that the immune system has never seen before.
"It appears that this is also true in other autoimmune conditions," he said. "It may profoundly change our understanding of this class of diseases."
Collaboration and community building
Mustelin became Head of the Division of Rheumatology in 2022, where he has enjoyed working with faculty, staff and trainees to create a rewarding and stimulating work environment that fosters collaborations.
The division's growing activities offer exciting opportunities to continue this momentum, including progress in diversity, equity and inclusion; collaborations with indigenous communities; the upcoming arrival of a diverse group of new Fellows; and building up the division's research and clinical capabilities.
With so much on the horizon, "I am excited about the unique talents, diverse backgrounds, and future potential that the candidates are bringing. I can already see the new collaborations and discussions that will result from this."
Mustelin is also proud of the large number of regional, national, and international collaborations Rheumatology faculty are engaged in. Many faculty members are active in the American College of Rheumatologists and serving in leadership roles including as the current president of the American Association of Rheumatology Professionals.
Outside of medicine
As with his professional career, Mustelin has a variety of personal passion and hobbies that often intertwine and overlap.
"Besides my family, which is my first priority, music has always been an important part of my life."
He has played the guitar since he was a child but traded it in for the cello 15 years ago. Now he composes symphonies and cello concerts using the score writing program, Sibelius.
He enjoys reading "everything from quantum physics and science fiction to biographies and history," and the gift of a set of oil colors when he was 16 years old started a chronic painting spree.
All the while, his scientific interests were sparked early. He began collecting butterflies at age 10 which led to a more serious scientific study of moths and butterflies, including the description of 38 new species. "Related to that, I love nature, hiking, and our little cabin in the mountains."