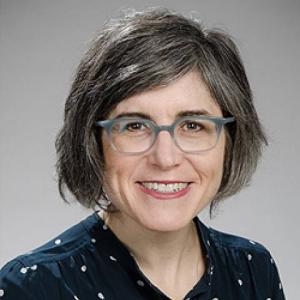 March 23, 2021
Faculty Spotlight: Dr. Susan Merel
Our March Faculty Spotlight is on Dr. Susan Merel, associate professor in the Division of General Internal Medicine.
Scroll for more

Back to top
Dr. Susan Merel's mission is to take excellent care of inpatients - especially older adults and patients with serious illness - and to teach clinicians and trainees how to communicate with patients with serious illness.
Raised in Southern California, Merel received her undergraduate degree cum laude in Women's Studies from Columbia University. She worked as a union organizer for nurses for several years before entering medical school. After completing her medical degree at the Pritzker School of Medicine at the University of Chicago, she came to the University of Washington in 2005 for her internship and residency in internal medicine and a clinical fellowship in Geriatrics.
"I have a non-traditional background for a physician. I was a student activist in high school and college and wrote my undergraduate thesis on the role of Black women in the Civil Rights movement of the 1960's. My father is a physician, but I wasn't very interested in medicine until I worked with nurses as a union organizer in Upstate New York after college."
She is currently an associate professor in the Division of General Internal Medicine, practices inpatient medicine at UWMC-Montlake and palliative care at Harborview. She is an associate clerkship director for Medicine Student Programs and the education director for the Cambia Palliative Care Center of Excellence (PCCE).
An exceptional teacher, mentor and role model, Merel runs the subinternship, advanced patient care clerkship and clinical elective program for Medicine Student Programs.  She worked with Dr. Daniel Cabrera to develop and manage the Visiting Scholars Program to recruit underrepresented minority students to the UW Internal Medicine residency program. As education director for the Cambia PCCE, she develops education in primary palliative care for students, residents and practicing physicians. In 2016, she received the Society for General Internal Medicine Northwest Region Award for Excellence in Clinical Education.
Recognized both within the UW community as well as regionally and nationally for her academic contributions, Merel has developed a scholarly record in the management of clinical issues in the elderly as well as communication with seriously ill patients and medical student education. 
She is described as a strong role model, a committed and compassionate physician, a terrific hospitalist and a wonderful colleague.
Gender Equity
Merel has been championing women's issues her entire career. She was selected to attend the AAMC Early Career Women Faculty Professional Development Seminar, and locally, she has served on the Dean's Standing Committee on Women in Medicine and Science.
In 2020, the Department of Medicine formed its inaugural Gender Equity Council (GEC), with Merel as its first faculty co-chair, working together with Stephanie Timm, the staff co-chair. The GEC will advise the department chair on matters related to gender equity, make recommendations to ensure an equitable and inclusive environment in the department, and plan and implement activities that promote gender equity.
"I am thrilled to be involved in the inaugural Gender Equity Council and very honored to be asked to help lead it. I hope to work closely with the Diversity Council and LGBTQ+ Council to help build a more equitable Department of Medicine."
She lives with her husband and two children in Seattle. She enjoys running and cross-country skiing and her pandemic hobby is baking sourdough bread.