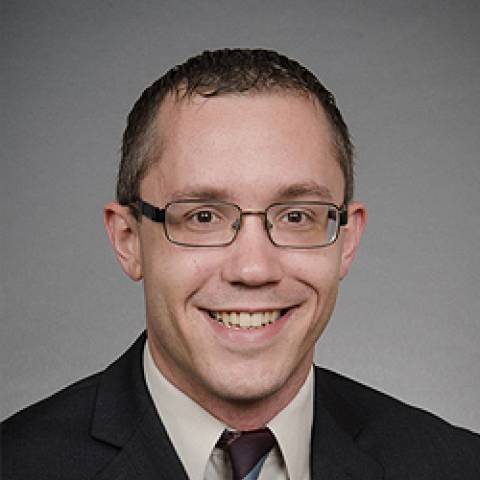 June 9, 2021
Faculty Spotlight: Dr. Steven Disharoon
Our June faculty spotlight is on Dr. Steven Disharoon, clinical assistant professor in the Division of General Internal Medicine.
Scroll for more

Back to top
Dr. Disharoon received his medical degree from Virginia Commonwealth University, and completed his internship and residency at Oregon Health & Science University.
Wanting to pursue a career where he could have involvement in education, quality improvement, and be able to work with some of the best experts in the country on a very complex patient population, Disharoon joined the UW Department of Medicine as a clinical instructor in the Division of General Internal Medicine in 2015.
Currently a hospitalist/nocturnist on the Consultative and Hospital Medicine Service at the University of Washington Medical Center-Montlake, he has also been involved in the sepsis committee, is the co-lead for the resident board review sessions, teaches cardiology to the M1 students, and is excited to be taking up his new role as one of the capacity management physicians this coming year.
Disharoon is also on the editorial board of MD Aware – the newsletter for UW General Internal Medicine hospitalists – created to provide a sense of community, connect hospitalists across UW Medicine sites, and serve as a way for hospitalists to get to know each other, find colleagues with similar interests (personal, academic, or professional), and highlight hospitalist achievements, publications, and projects.
Hoping to bring this same sense of community and connection to the department LGBTQ+ community, he was recently appointed co-chair of the newly formed Department of Medicine LGBTQ+ Council.
"Being LGBTQ+ in medicine, science, and research fields is not always a comfortable thing to be. Despite acceptance growing in the country by and large, these fields can sometimes still feel like they are rooted in traditions where being LGBTQ+ is tolerated but not accepted. In my training, I sought after – and lacked – openly visible LGBTQ+ mentors and, this lack of open visibility, could sometimes make it uncomfortable to be myself. With the creation of the new LGBTQ+ Council, I am hopeful that we will not only be able to foster community and enhance visibility of all the amazing LGBTQ+ faculty, staff, and trainees in the Department of Medicine, but also be able to work towards fostering an even more inclusive work environment"