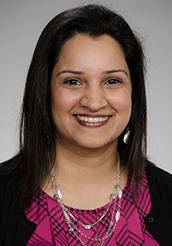 September 18, 2020
Faculty spotlight: Dr. Rashmi Sharma
Rashmi Sharma, MD, MHS is an assistant professor and palliative care provider in the Division of General Internal Medicine.
Scroll for more

Back to top
As the COVID-19 pandemic continues, the medical community has observed that the virus disproportionately affects disadvantaged communities and exacerbates underlying social and economic inequities. 
Rashmi Sharma, MD, MHS, assistant professor in the Division of General Internal Medicine, has seen this first hand, as her research and clinical work is focused on understanding and addressing health inequities in the care of patients with serious illness.
background
Sharma has been on the faculty in the Department of Medicine since 2015. She is an alumna of the University of Washington School of Medicine as well as the UW Internal Medicine Residency Program. She returned to the UW after completing a fellowship in General Internal Medicine at Johns Hopkins and serving on the faculty in the Department of Medicine at Northwestern University.
She is currently an attending physician on the UW Medicine Palliative Care Consult Service, an active investigator and an educator and mentor for numerous medical students, residents, and fellows. She also co-chairs the American Academy of Hospice and Palliative Medicine's Diversity, Equity, and Inclusion Committee.
As a palliative care clinician and researcher on health equities, Dr. Sharma has centered her career around reducing racial/ethnic disparities in end-of-life communication and improving the quality of end-of-life care through patient and family-centered communication.
COVID-19 
Sharma's experience working with patients in critical condition has been crucial during the COVID-19 pandemic. While disadvantaged communities are noticeably more at risk for contracting the coronavirus, Sharma has recently been examining the role of primary language and race/ethnicity in healthcare outcomes for patients hospitalized with COVID-19.
"It is striking that 25 percent of patients hospitalized in UW Medicine with COVID-19 have limited-English proficiency," she says. "This vulnerable population is clearly experiencing a disproportionate burden of disease."
Patients with serious illnesses require clear and compassionate communication regarding their goals of care and potentially end-of-life decisions. Working to better facilitate these discussions, Sharma is conducting a study funded by the American Cancer Society in which her research team has developed a web-based guide to help prepare hospitalized patients with advanced cancer for discussions about their goals of care. The study is currently collecting patient feedback on the guide and will soon be conducting a pilot trial of the guide.
Language inclusive care
The intersection of language and medical care is another large focus of Sharma's work. Together with Lea Ann Miyagawa, director of the Harborview Community House Calls Program, Sharma is currently working on a project funded through the Department of Medicine to identify triggers for referral of patients with limited-English proficiency to the Caseworker Cultural Mediators (CCM) program. In the CCM program, patients facing complex medical and social circumstances are paired with bilingual/bicultural caseworker cultural mediators who provide navigation, advocacy, and interpreter services, and serve as liaisons to their respective communities.
In addition to patients understanding their medical care, the way in which providers communicate with their patients is equally important.
"One of the things I'm most proud of was having chaired the 2019 Annual Pacific Northwest Palliative Care Conference with a theme of 'Caring for Diverse Populations'. That conference gave me a forum to talk about addressing microaggressions and the importance of pronouncing peoples' names correctly. This is a common thread for my research and my passion for advancing diversity, inclusion, and equity – figuring out how to create a more respectful and compassionate environment in clinical care and in our work environment so that everyone can thrive.
Sharma is a powerful advocate for UW Medicine patients and the larger medical community and is a recognized leader in the field. In addition to lecturing nation-wide on end-of-life communication and health equity, she received the 2016 Hastings Center Cunniff-Dixon Early Career Physician Award, one of only three early-career physicians in the country to be recognized with this award.