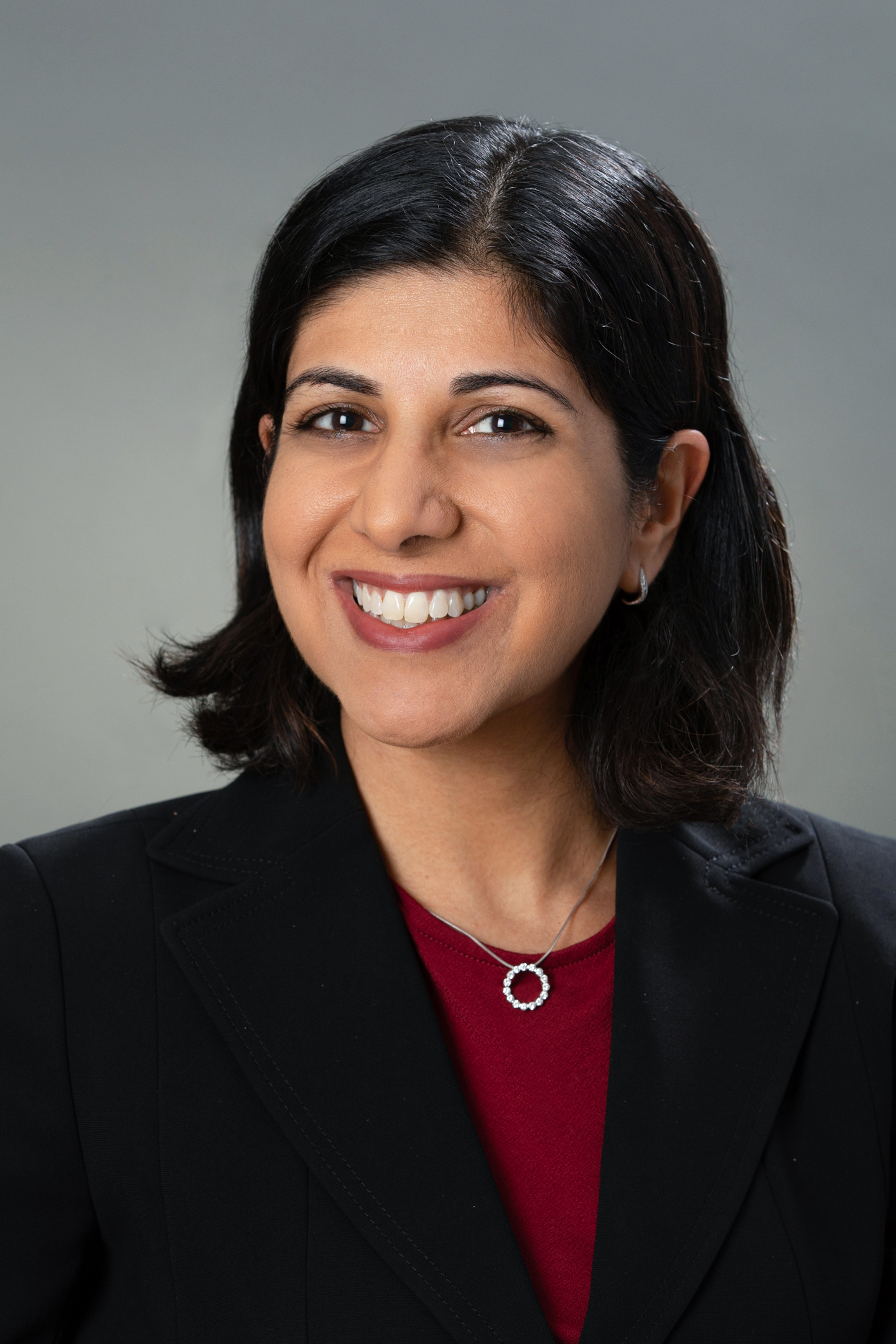 March 24, 2023
Faculty spotlight: Nisha Bansal
Dr. Nisha Bansal is a professor and physician-scientist in the Division of Nephrology and new co-chair of the DOM Gender Equity Council.
Scroll for more

Back to top
Background
Dr. Bansal grew up in a small town in Connecticut. She developed a sense of adventure early on from her parents who immigrated to the United States and found every opportunity to explore their new home. "Every chance we had, we jumped in the car and would take road trips all across the country," she said.
Like her parents, Bansal loves opportunities to travel with her family and explore new places. "I now have a similar sense of adventure- I love to travel around the U.S and the world. One of my favorite ways to explore new places is by bike, much to my kids' chagrin!"
She remained in New England for much of her education and training, attending Brown University in Rhode Island for her undergraduate degree, the University of Connecticut for her medical degree, and completing her internship and residency in internal medicine at Tufts Medical Center in Boston, MA.
As a resident, while she was certain her future job would focus on patient care, she also found an interest in a new path in which she could use her skills as a physician as well as engage in scientific discovery to impact patient care.
"I happened to stumble into working on a research project with an incredible mentor and physician-scientist," she said.

"He really opened my world to this new career path. It's the best of both worlds! Importantly, he believed that I had the potential to follow his footsteps and that gave me the confidence to go down this career path. I am so grateful for his mentorship. I recently had the opportunity to go back to my residency program as a visiting professor and I was able to thank him in person."
She then made her way to west coast for Nephrology Fellowship and a Master's Degree in Clinical Research at the University of California San Francisco (UCSF). Prior to arriving at the University of Washington, she spent time as a faculty member at the University of Chicago and UCSF.
Current roles
She is now the Arthur Stach Family Endowed Professor in the Division of Nephrology, Director of the UW Kidney Heart Service and an active physician-scientist. Bansal loves that academic medicine allows her to "wear many hats" she says, as she enjoys the experiences and challenges of working as a clinician, educator and researcher.
"Each day is a bit different! One week I may be working in the hospital, the next week I may be writing a grant. I am always learning and growing professionally"

"Also, by working in many different areas, I have had the pleasure of meeting so many talented individuals across UW. I really enjoy bringing together people with different skillsets to work collaboratively on a project or initiative."
Education
Bansal has long been an active mentor and especially enjoys growing her skills as an educator. As Director of Nephrology Clinical and Research Education, co-director of the UW Nephrology T32 research training grant and a recent member of a NIH study section that reviews career development awards, she loves working with learners as well as meeting other mentors and educators from across UW and the country.
"I am very passionate about cultivating the next generation of physician-scientists; and am honored to work with so many early career physicians and scientists through these roles."
She also values opportunities for continuing her own education including attending workshops and courses to become a more effective mentor and educator. "Like any other skill," she said, "learning how be an educator and mentor takes work and practice."
Research
Nearly all patients with kidney failure have high blood pressure which is linked with poor outcomes in these patients.
Her clinical and research interests center around the mechanisms and treatment of hypertension in patients with chronic kidney disease. She is currently excited to be leading an NIH funded trial to study blood pressure treatment in patients with kidney failure treated with hemodialysis.
"As a nephrologist, blood pressure management is a core part of our specialty," she said, "yet there are so many unanswered clinical questions on how best to treat high blood pressure."
The trial seeks to test whether blood pressure measured at home is a better treatment target compared with blood pressure measured at the time of the dialysis treatment. Study participants who are assigned the intervention use mobile health technology to measure and transmit their home blood pressures to the research team.
Bansal said this trial is important to her for many reasons. "We are studying an intervention that can be readily implemented to patient care if the intervention demonstrates benefit.

"By incorporating technology, we are addressing disparities in this population related to 'technology literacy.' Finally, this is my first time leading a trial of this size, so I am learning a lot and can't wait to design my next trial!"
Gender Equity Council
Bansal has been a member of the Gender Equity Council since 2022 and was recently asked to serve as co-chair with Kelsey Griffin, stepping in for Dr. Susan Merel, who has served as faculty co-chair since the council inception in 2020. 
"Susan and Kelsey have done an outstanding job in implementing many impactful initiatives to support women in the department," she said.

"I am truly honored to follow in Susan's (very big) footsteps to help co-lead the Council. Working with the Council is very personal for me- I have sought out women mentors and peer-mentors throughout my career as I have tried to navigate being a physician, wife, mother and daughter. I am excited to work with the Council to enhance our mission to diversity, equity and inclusion within DoM."
The Gender Equity Council (GEC) is organized into three sub-committees for employment and career advancement, family support and outreach and visibility. Among their many initiatives, they have launched the DOM Gender Equity Awards to recognize and celebrate those who are dedicated to supporting the success of women and gender minorities; and the GEC Lunch Series which provides a space for informal, open dialogue on real issues that women and gender minorities face in the workplace and beyond.
Bansal's tenure as co-chair will officially begin in July.