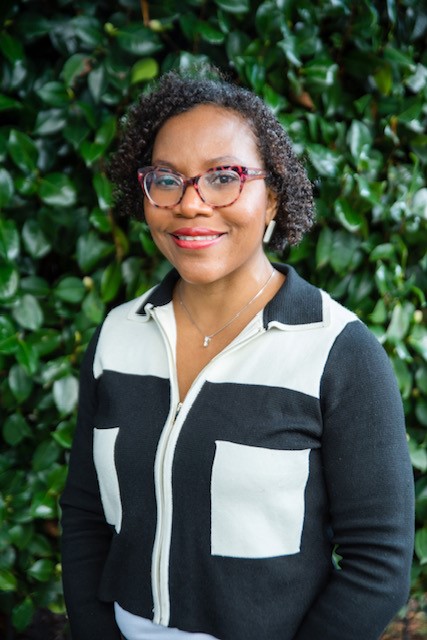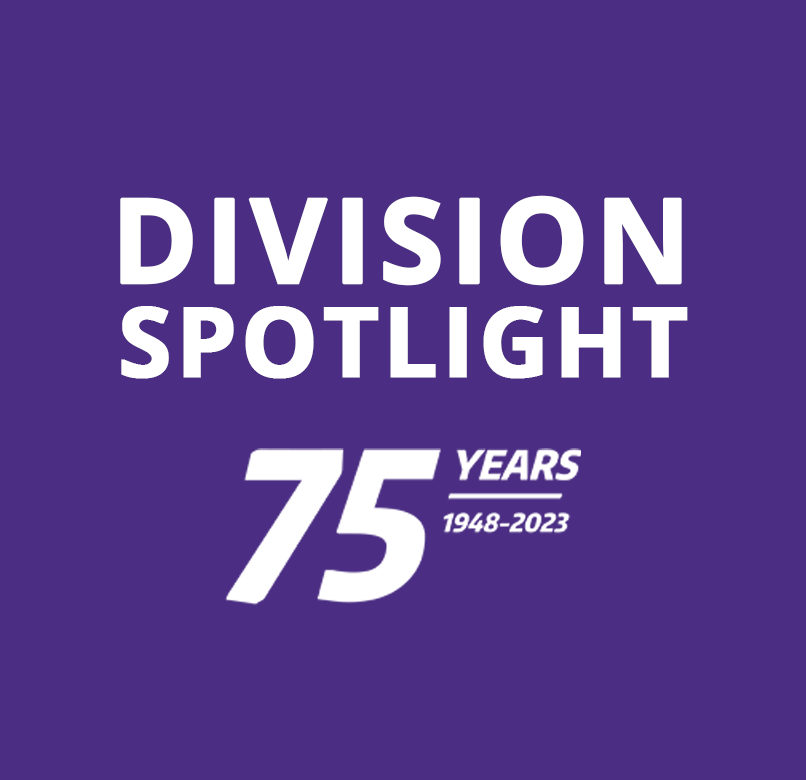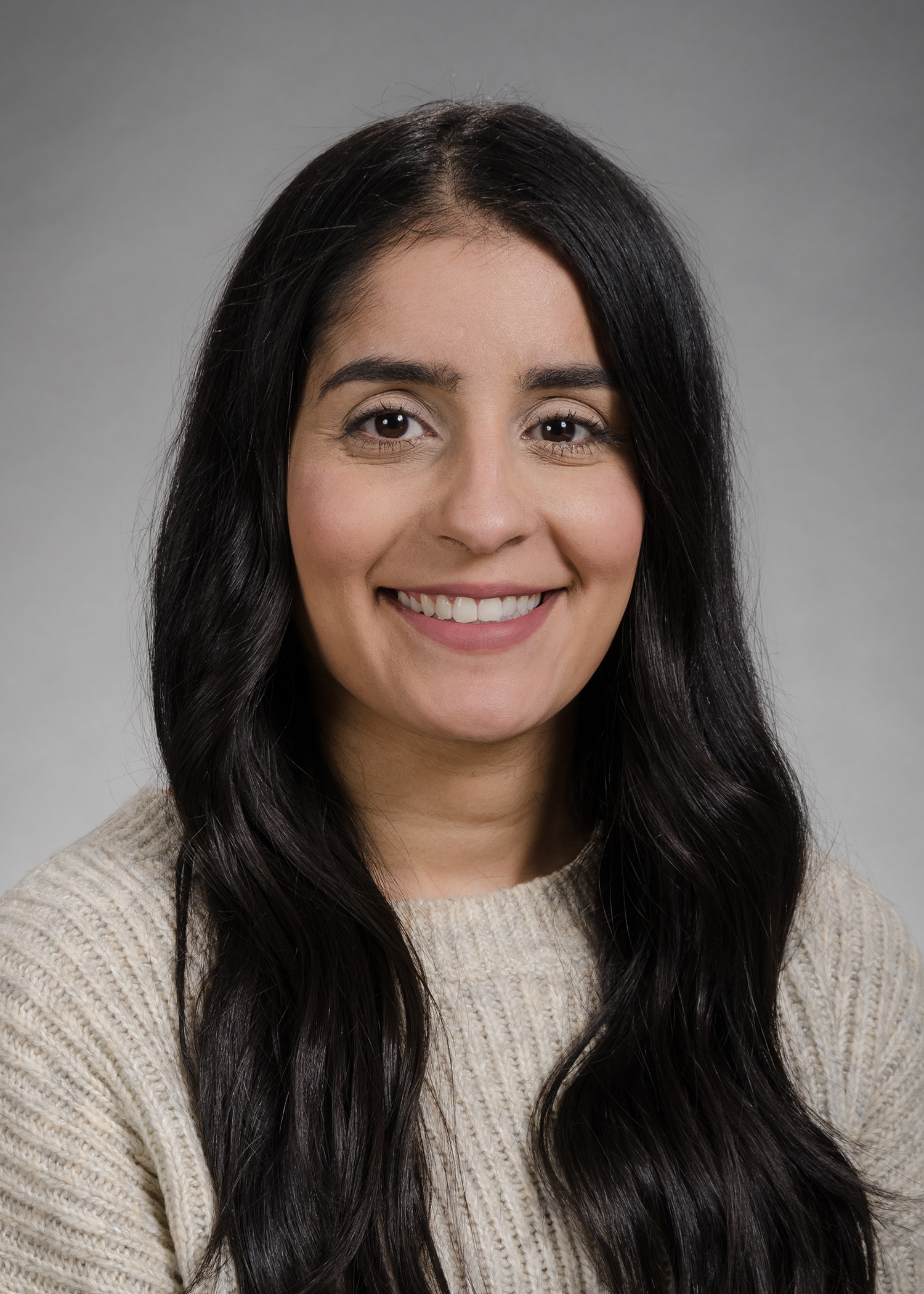 February 6, 2023
Division Spotlight: Gastroenterology
Our Division of Gastroenterology was founded in 1949 by Dr. Wade Volwiler who led the division for 31 years.
Scroll for more

Back to top
The University of Washington Division of Gastroenterology (UW GI) was established in 1949 by Dr. Wade Volwiler who led the division for 31 years.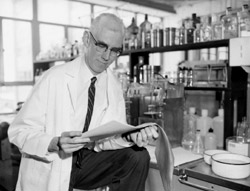 Dr. Volwiler was a gastroenterologist and physician-scientist who studied malabsorption in the gastrointestinal tract.
Celebrating 75 years
As part of our 75th Anniversary, we plan to spotlight each of our divisions over the course of the year, in the order that they were established. Learn more about our 75th Anniversary on our website
Gastroenterology (GI) includes the range of luminal GI, pancreaticobiliary, and hepatic disorders.
Our division has thrived over the years including having expanded from 2 to 59 faculty members.
UW GI spans seven campuses in the Pacific Northwest Region: The University of Washington Medical Center (Montlake, Northwest Hospital, and Eastside Specialty Center), Harborview Medical Center, the Fred Hutchinson Cancer Center, VA Puget Sound Health Care System, and Spokane Liver Clinic.
Mission
Our mission is to restore digestive health through outstanding patient care, breakthrough discovery, and exceptional teaching.
Vision
UW GI is a cohesive team comprised of a diverse group of individuals equally invested in setting the standards for GI care delivery, research, and education.
EDUCATION AND FELLOWSHIP TRAINING
We are proud to provide excellent training programs for fellows that are rigorous but nurturing.
We have an enviable record of training fellows who become highly successful in their academic careers. In addition to our traditional GI training track, we offer a one-year ACGME-accredited fellowship in Transplant Hepatology (which can be completed either as a third-year GI fellow or 4th year fellow) and a one-year non-ACGME fellowship in Advanced Therapeutic Endoscopy. Fellowship training is also supported in-part by a T32 training grant from the National Institutes of Health.
In addition to training fellows, our faculty continue to lead the #1 course in medical school education on GI pathophysiology ("The Gut Course") and mentor a number of students and residents through their GI specialty rotations. Our faculty also develop curricula for use both nationally and internationally and are leaders in the premier GI professional societies.
HuBio 551 ("The Gut Course")
Since 1968, the Division of Gastroenterology has been responsible for teaching "The Gut Course" for the School of Medicine. The course is a comprehensive journey through GI pathophysiology through the lens of GI luminal, hepatic and pancreaticobiliary clinical diseases.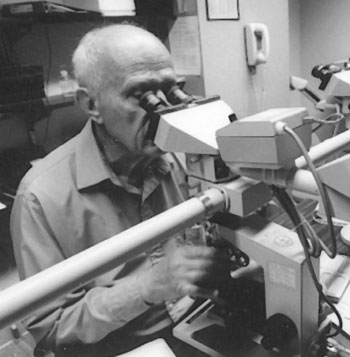 It was started by GI faculty under the direction of Dr. Cyrus Rubin who was the first chair for the course. Revolutionary at the time was the use of the Socratic seminar format, case discussions, and small group structure. Course leaders have included GI faculty, community gastroenterologists, and fellows.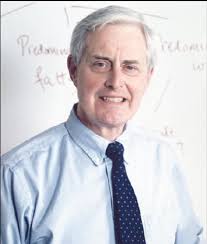 Dr. David Saunders took over as course chair in 1974 and earned the "Best Teacher of the Year" so many times that he was retired from competition and a David R. Saunders teaching award was named after him. Dr. Saunders expanded the teaching to include a firm foundation of teaching physiology to the students.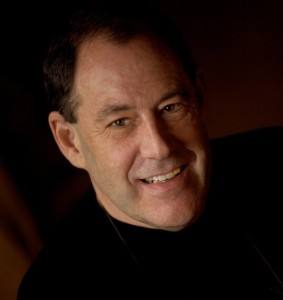 In 2008, Dr. Bruce Silverstein took over the course as director. Under his direction, computers were integrated into the course. He also oversaw the course going virtual during the COVID-19 pandemic.
Dr. Silverstein was awarded the David R. Saunders teaching award twice.
Since its inception, "The Gut Course" has consistently been the highest rated course in the medical school by the students. That is a testament to the dedication of our faculty and fellows to educating the next generation of physicians. 
Fellowship Training
We offer two ACGME-accredited fellowships and one non-ACGME-accredited fellowship.
Gastroenterology Fellowship
The Gastroenterology Fellowship offers three different tracks: the 3-year clinician-teacher track, the 4-year physician-scientist track (NIH/T32-funded), and the 3-year Dual Gastroenterology/Transplant Hepatology Track (third year).
Transplant Hepatology Fellowship
A fourth-year Transplant Hepatology Fellowship is available for GI board certified/eligible individuals who have completed their Gastroenterology Fellowship.
Advanced Therapeutic Endoscopy Fellowship (non-ACGME)
A fourth-year fellowship in Advanced Therapeutic Endoscopy is available for those who have completed the Gastroenterology Fellowship and are board certified/eligible.
PATIENT CARE
We provide the highest quality of care for a wide spectrum of GI diseases to approximately 40,000 patients. At present, we hold over 20,000 clinic visits annually and perform nearly 3000 endoscopic procedures per month.
We provide the highest quality of care for a wide spectrum of GI diseases
We specialize in the diagnosis and medical and endoscopic management of general and complex GI diseases.  We aim to not only manage acute and chronic illness but to restore digestive health for all of our patients.  
Our faculty have expertise in a variety of disorders including general GI, small bowel disease, GI motility, inflammatory bowel diseases, pancreaticobiliary disease and advanced therapeutics, general and transplant hepatology, and GI cancers.
In addition, our many innovative and pioneering clinical research programs allow our patients to access highly promising and exciting treatment protocols and our basic and translational research programs are at the forefront of discovery of novel modalities to ultimately be applied to patient care.
Celiac Disease Center
Our Celiac Disease Center provides individualized and comprehensive care to those with celiac disease as well as other small bowel disorders.
Colorectal Cancer Screening and Prevention
Colorectal cancer is the third most common cancer diagnosed in both men and women in the United States.
We provide a comprehensive approach to colorectal cancer prevention by assessing individual risk and performing screening procedures such as colonoscopy, and establishing novel interventions to address disparities in colorectal cancer screening, diagnosis and management.
We also provide counseling and genetic testing for people who might have a higher risk of colorectal cancer because of their family history.
Gastrointestinal Motility Clinic
Motility is the synchronized movement of the muscles and nerves that move food through the digestive tract. Motility disorders that can affect the GI tract may involve the esophagus, stomach, small bowel, large bowel, and/or anal sphincter.
Our team provides personalized consultative recommendations and performs motility studies to help diagnose and manage these diseases.
Our motility faculty also operate a specialized Cyclic Vomiting clinic which supports both clinical care and research in cyclic vomiting disorders.
Inflammatory Bowel Diseases Multidisciplinary Center
At our Inflammatory Bowel Disease (IBD) Center, patients with Ulcerative Colitis, Crohn's Disease, and other inflammatory intestinal diseases are offered specialized, state-of-the-art comprehensive care by our multidisciplinary team of expert providers.
We engage in a holistic approach of IBD care and use the most advanced technology, including bedside intestinal ultrasound, to provide point-of-care testing for our patients.
Our faculty also offer an annual regional conference to educate the community and GI providers about IBD management.
Liver Care Line
The Liver Care Line at the University of Washington offers specialized care for the full spectrum of liver diseases. Our general and transplant hepatologists focus on the treatment of viral hepatitis, autoimmune hepatitis, hepatocellular carcinoma, cholestatic liver diseases, non-alcoholic fatty liver disease, alcohol-associated liver disease and other metabolic liver diseases.
UW GI is also a premier transplant center and transplants approximately 115 patients annually. We are now the #1 transplant center for living donation, having transplanted 53 patients so far this year using living donation since the inception of the Living Donor program in 2020.
Pancreatic Care Line
Cancers of the pancreas are responsible for more than 30,000 deaths in the United States yearly. We are dedicated to developing more accurate methods of early diagnosis and curative treatment of pancreatic cancers.
We support a multi-dimensional approach to cancer research and diagnosis and to the education of patients and health care professionals.
Therapeutic Endoscopy Program
We offer comprehensive luminal tissue resection for patients with pre-cancer and early cancer in the digestive tract (esophagus, stomach and colon).
The Endoscopic Submucosal Dissection (ESD) program has been implemented to manage and treat early gastric cancer.
Our advanced therapeutic endoscopy faculty are nationally and internationally renowned and receive referrals from throughout the Pacific Northwest region and beyond.
RESEARCH
Our faculty lead research across our division, including at the University of Washington Medical Center, Fred Hutch Cancer Center, and the VA.
Our investigators are at the frontier of scientific discovery
Our investigators are pushing the bounds of innovation and are at the frontier of scientific discovery for luminal GI, hepatic and pancreaticobiliary diseases.
Our division has approximately $8.4 million in research funding. In addition, our VA faculty lead projects totaling over $70 million in budget for the study durations.  
Some research highlights are detailed below:
Biorepository
The GI Cares Biorepository and Registry is a research core that is actively collecting tissue samples and health information to improve our ability to perform clinically-relevant research.
The Gut Microbiome
Through philanthropic support, we launched the GI Microbiome Center, which serves as a hub of collaboration and connectivity for researchers and clinicians at the University of Washington and its affiliated campuses to advance the understanding of the dynamic interaction between microbes, the microbiome, and the host.
The Microbiome Center was established in 2016 and offers several core technical services, training, and consultative services to support the growing microbiome research community.
In addition to work supported by the Microbiome Center, our faculty have developed innovative ways to educate communities about the role of food on the microbiome and GI health.
The "Gut Bites" blog is one example of how our GI faculty distill microbiome science to make it accessible to all.
Colorectal cancer
Our faculty engage in colorectal cancer (CRC) research related to the discovery of early diagnostic and prognostic biomarkers, epidemiology of CRC, and implementation and population science to eradicate CRC health care disparities.
Our investigators have advanced our understanding of the role of epigenetics on CRC pathogenesis, apoptotic cell death pathways in CRC, effects of the gut microbiome on early CRC development, and evidence-based strategies to ensure equitable access to CRC screening.
Esophagitis and esophageal cancer
Our faculty have made discoveries that give us insight into the progression of pre-malignant esophageal disease to esophageal cancer and are developing strategies to use these findings in the care and management of patients at risk for esophageal cancer.
Diverticular Disease
Research in diverticular disease by our faculty have led to better understanding of the natural history of diverticular disease and phenotyping of patients who have diverticular disease. 
Studies are aimed at helping prevent recurrent episodes of diverticulitis, the most severe outcome of diverticulosis. 
Liver diseases and Liver Cancers
Our Center for Liver Investigation Fostering discovEry (C-LIFE) is a comprehensive multi-disciplinary Liver Clinical & Translational Research Center. Our faculty are at the forefront of diagnosing and treating patients with chronic liver diseases, advancing our understanding of transplant management, and basic, translational and clinical research in liver diseases.
The University of Washington School of Medicine housed one of just a few hepatitis C research centers in the nation funded by the National Institute of Health and was designated as one of the nation's four Centers of Excellence in Hepatitis C.
Research now includes basic, translational, and clinical investigation in non-alcoholic fatty liver disease, alcohol-associated liver disease, cholestatic liver diseases, and liver cancer (hepatocellular carcinoma), including the elimination of disparities in early detection of HCC in Alaska Native and American Indian people.
Pancreatitis and pancreatic cancer
Pancreatic cancer is the fourth leading cause of cancer death in the United States. Our faculty helped developed and are engaged in a multidisciplinary surveillance program for the early detection of pancreatic cancer and its precursors in patients with familial predispositions.
We have also uncovered potential molecular precursors that promote the development of pancreatic cancer in individuals with a familial risk and are exploring the use of therapeutic ultrasound to enhance the delivery of chemotherapeutic agents to pancreatic tumors while minimizing off-target effects.
Inflammatory Bowel Disease (IBD)
Research in IBD spans both clinical trials for discovery of new therapeutics and basic/translational science. Most recently, our investigators have led and contributed to studies investigating the role of biologics in IBD management and are developing methodologies to enhance the holistic care of patients in our Integrative IBD practice, including using nutrition as therapy.
Leadership