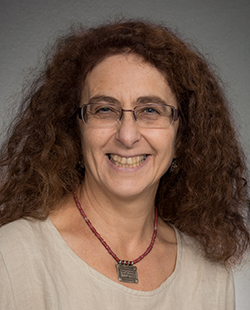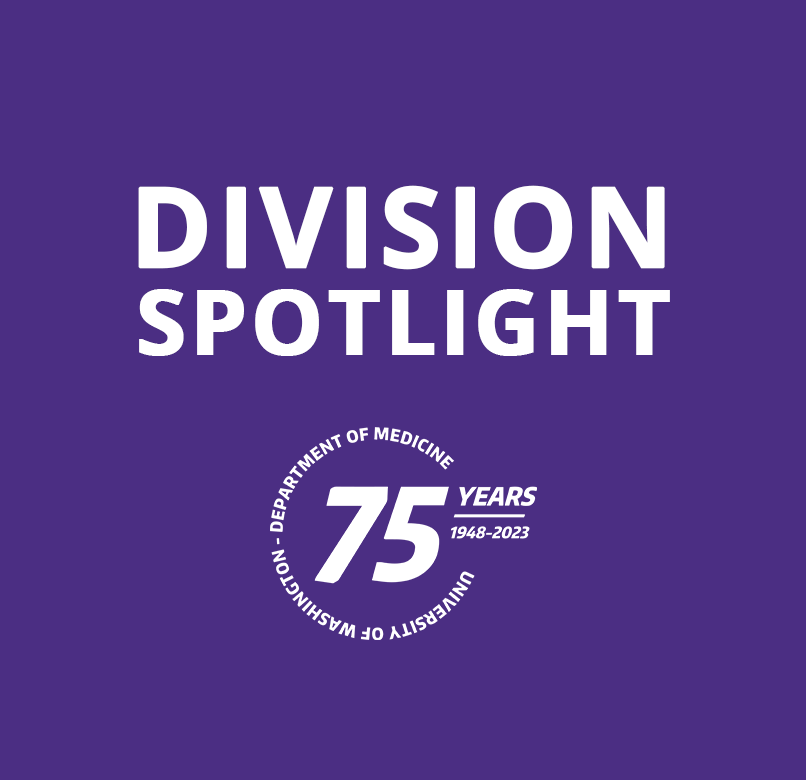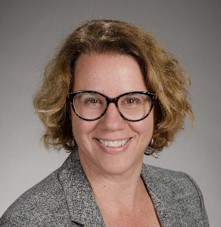 October 26, 2023
Division spotlight: Allergy and Infectious Diseases
In 1976, the Division of Infectious Diseases and the Division of Allergy were combined to form the new Division of Allergy and Infectious Diseases, led by Dr. Seymour Klebanoff.
Scroll for more

Back to top
In 1976, the Division of Infectious Diseases, which was founded in 1949 and led by Dr. William Kirby, combined with the Division of Allergy, founded in 1954 and led by Dr. Paul VanArsdel, to form the new Division of Allergy and Infectious Diseases. This joint division was led by Dr. Seymour Klebanoff.
Celebrating 75 Years
As part of our 75th Anniversary, we plan to spotlight each of our divisions over the course of the year, in the order that they were established. Learn more about our 75th Anniversary on our website.
Our nationally and internationally prominent faculty work towards solving the world's most urgent health problems. We conduct innovative basic and clinical research in a wide range of areas, including treating and studying sexually transmitted diseases including HIV, tuberculosis, immunology, and global health.
Education and fellowship training
We provide fellowship programs in Allergy and Immunology, Infectious Diseases, and Global and Rural Health. Our research training programs cover STIs, HIV, transplant, tuberculosis, vaccines, and host pathogen interactions. 
Patient care
Our patient care covers the entire spectrum of viral, bacterial, fungal, and parasitic infections. In addition, we care for patients with allergic and immunologic disorders.
Inpatient
We have the highest number of inpatient consults of any service at UW Medicine.  We provide specialized inpatient services for solid organ transplant, hematologic malignancy, and hematopoietic stem cell transplant, HIV care, and general infectious diseases. 
Outpatient
We provide outpatient care for infectious diseases and allergy at several locations. In addition to outpatient consults in allergy and infectious diseases, we provide primary care for persons with HIV.
We have grown our outpatient parenteral antimicrobial therapy (OPAT) programs, including provision of outpatient antibiotics to people with substance use disorders, and developed and implemented low-barrier HIV care to multiple populations including persons who use drugs, who exchange sex for drugs, who are unhoused, and who reside in rural areas of Western Washington.
Research
Our faculty are internationally renowned for their research and receive direct awards totaling $72 million per year. 
Our large research portfolio spans a wide range from host-pathogen interactions (microbiology, immunology, pathogenesis and drug discovery), to clinical and behavioral studies (natural history, clinical trials, health outcomes, health behaviors), and community and public health (epidemiology, modeling, implementation science). 
We focus on a variety of pathogens, with well-funded programs in sexually transmitted infections including HIV, infections in immunocompromised hosts, infections in people who use drugs, respiratory infections, including SARS-CoV-2 and tuberculosis, and enteric and parasitic infections.
COVID-19
Since the start of the pandemic, we've been a leader in understanding the natural history, immunological responses, and diagnostics for COVID-19. Our Seattle Flu Study detected the first COVID-19 community transmission in the USA. We received funding from Operation Warp Speed for Covid-19 Phase 3 vaccine trials, and our Vaccine and Treatment Evaluation Unit was among the highest enrolling sites for the Phase 3 trial of the Novavax Covid-19 vaccine.  We collaborated with the Lummi Nation and Nooksack Indian Tribe on the Novavax trial.
Currently, our researchers are studying long-term effects of COVID. The RECOVER (Researching COVID to Enhance Recovery) study is expected to be the largest and most comprehensive long COVID research effort in the U.S. to date.
We are also leading a $78 million study, funded by the Center for Diseases Control and Prevention, to assess how well COVID-19 vaccines protect against infection in the community. This information will be vital for understanding how well vaccines work in the community over time, how long immunity lasts, and when boosters are needed.
Sexually transmitted diseases
Our Center for AIDS and STD was established in 1989. It provides patient care, research, training and education, and international assistance for HIV/AIDS and sexually transmitted infections with a mission to prevent transmission of HIV and other sexually transmitted infection, and to reduce human suffering caused by these infections.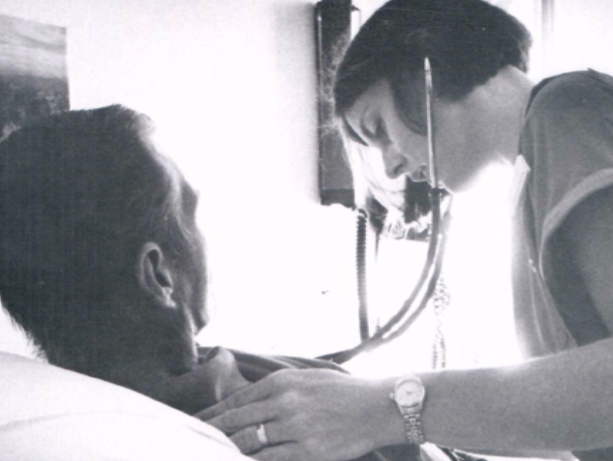 Our UW Positive Research (previously known as AIDS Clinical Trials Unit) has been studying HIV treatment in adults since 1986. Over 2600 volunteers in more than 170 studies have helped us to answer questions about how HIV works and affects the immune system, as well as to develop new treatments for HIV.
Our UW Virology Research Clinic has enrolled over 9,500 volunteers in 285 studies of genital herpes simplex virus infections and other viral STI's, characterizing the natural history of oral and genital HSV infections and evaluating numerous new therapies and vaccines.   We remain the only clinic focused on HSV infections globally. 
Our Center for AIDS Research makes a meaningful global impact on the lives of people living with or at risk for HIV by providing the most innovative and cutting-edge expertise and technology, and fostering an environment where the next generation of HIV research leaders will flourish and make tomorrow's breakthrough discoveries.
With more than 700 multidisciplinary investigators, our research has demonstrated how Pre-Exposure Prophylaxis prevents HIV acquisition, prevented mother to child HIV transmission, and established a national database integrating HIV research and best practices for HIV infection management.
We were the first county in the US to achieve the UNAIDS goal of 90-90-90 for HIV control and treatment (90% of all people living with HIV will know their HIV status, 90% of all people with diagnosed HIV infection will receive antiretroviral therapy, and 90% of people receiving antiretroviral therapy will have viral suppression.)
We pioneered the concept of treatment for prevention using acyclovir to prevent herpes simplex 2 (HSV-2) transmission and validated viral load for use in CMV and HSV antiviral drug development. We discovered antigenic variation in Treponema pallidum, explaining the chronicity of syphilis and were the first to achieve genetic manipulation of this organism. We have also demonstrated the benefit of expedited partner therapy for treatment of gonorrhea and chlamydia, in a community-level randomized controlled clinical trial. 
Infectious diseases
Our Center for Emerging and Re-emerging Infectious Diseases facilitates research to identify, diagnose, prevent and treat infectious diseases in response to major public health concerns.
We have discovered novel anti-parasitic candidates for neglected parasitic diseases: cryptosporidiosis, toxoplasmosis, giardiasis, and Chagas disease.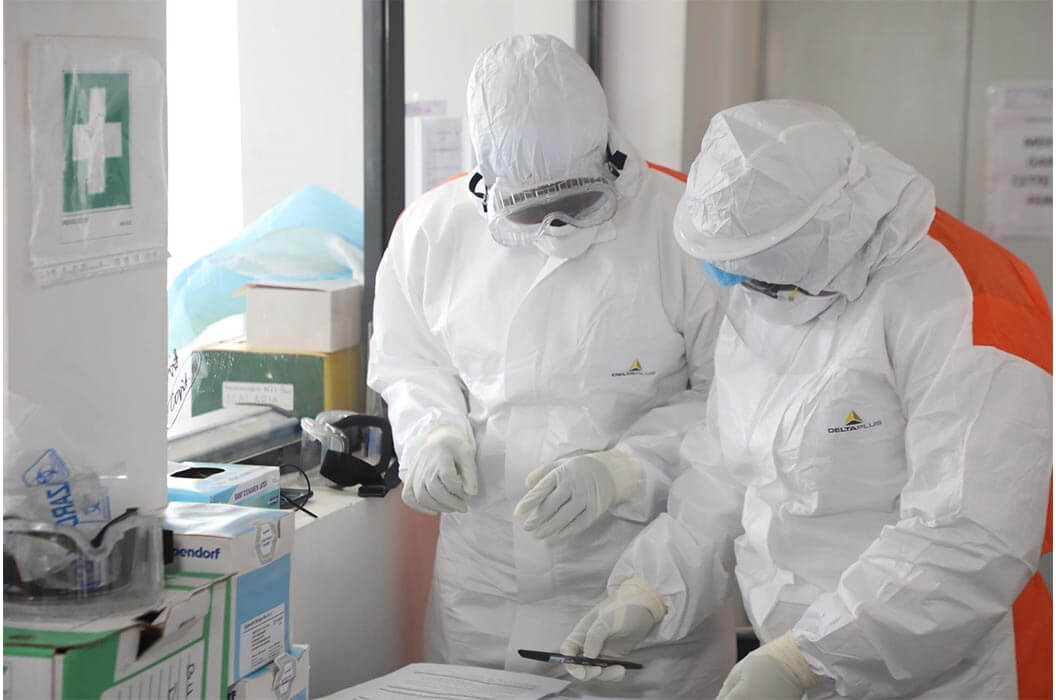 We helped form the United World Antiviral Research Network to address emerging viral infectious diseases by carrying out research with collaborating partner research laboratories in Brazil, Pakistan, Senegal, South Africa and Taiwan.
Tuberculosis
Tuberculosis (TB) is the second most common cause of infectious disease related death worldwide, having only recently been surpassed by SARS-CoV-2, the virus that causes COVID-19. Each year TB infects more than 10 million people with over 1.5 million dying from the illness.
Our Tuberculosis Research & Training Center (TRTC) provides educational opportunities, fosters collaborative research, and creates a hub for TB investigators to amplify the success of current TB research.
Likewise, the Seattle Tuberculosis Research Advancement Center (SEATRAC) aims to develop the next generation of TB researchers by funding and mentoring new investigators, supporting lab and clinical research, and facilitating collaboration between research institutions within and outside the university.
Our TB research efforts include work in epidemiology, clinical trials, immunology, and microbiology.  We have discovered immune responses associated with protection from infection as well as progression to disease with implications for development of novel therapies. Researchers have also created a breakthrough technique for TB detection, which combines nanotechnology with artificial intelligence to diagnose tuberculosis in children in whom the deadly disease might otherwise go undetected. This discovery is particularly impactful given the deadliness of the disease in young children- especially those already infected with HIV. Of the quarter of a million children (< 15 y/o) who die from TB each year, more than 80% are under the age of 5. In almost all these cases, roughly 96%, of the children had not been diagnosed. With these numbers in mind, our researchers are collaborating to develop novel rapid diagnostic tests (RDTs) for tuberculosis. If they are successful, widespread, rapid testing for TB could change the trajectory of TB cases and deaths around the world.
Global impact
We have collaborative research in Kenya studying HIV, TB, enteric pathogens, and women's health, as well as collaborative research in Uganda on HIV, TB, and pathogen-associated malignancies.
Leadership