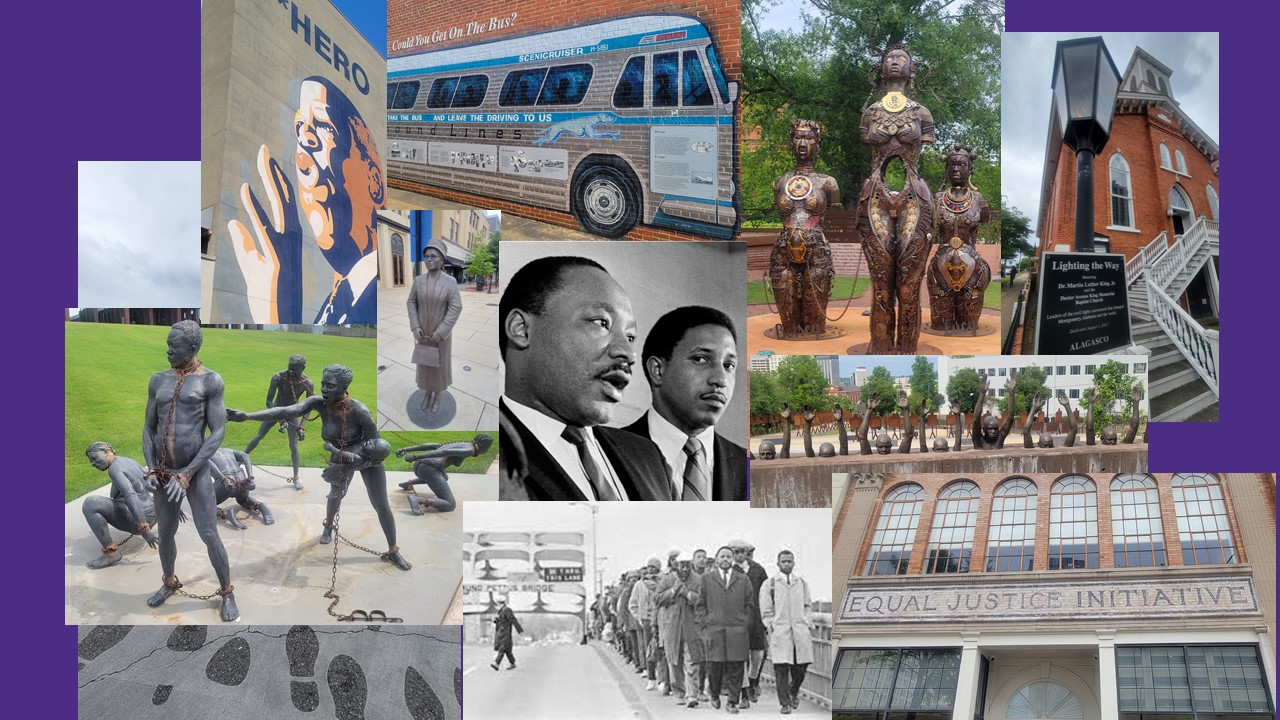 October 20, 2023
Civil Rights Learning Tour
Sean Greenlee and Masaoki Kawasumi embarked on a Civil Rights Learning Tour with stops in Atlanta, Georgia and Birmingham, Selma, Tuskegee and Montgomery, Alabama.
Scroll for more

Back to top
Truth and purpose learning experience
The Institute for Common Power is dedicated to creating a nation of educators who understand and teach honest history while serving as models for students to work collaboratively in building a just and inclusive American democracy.
They partner with teachers, tutors, curriculum specialists, organizational foundations, and school system leaders across the country to provide an experiential learning opportunity for educators in the long historical arcs of Civil Rights, Voting Rights, and the African American experience in America.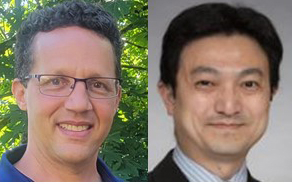 Two members from the Department of Medicine, Sean Greenlee, DEI program manager and Masaoki Kawasumi, assistant professor (Dermatology) embarked on this learning tour last spring. 
The trip was led by Dr. Terry Anne Scott and Dr. David Domke, both leaders and scholars (with UW ties) in the Institute for Common Power. 
Here are some highlights from their experience: 
Atlanta, Georgia
King Center
Established in 1968 by Mrs. Coretta Scott King, The Martin Luther King, Jr. Center for Nonviolent Social Change ("The King Center") has been a global destination, resource center and community institution for over a quarter century.
Both a traditional memorial and programmatic nonprofit, the King Center was envisioned by its founder to be "no dead monument, but a living memorial filled with all the vitality that was his, a center of human endeavor, committed to the causes for which he lived and died."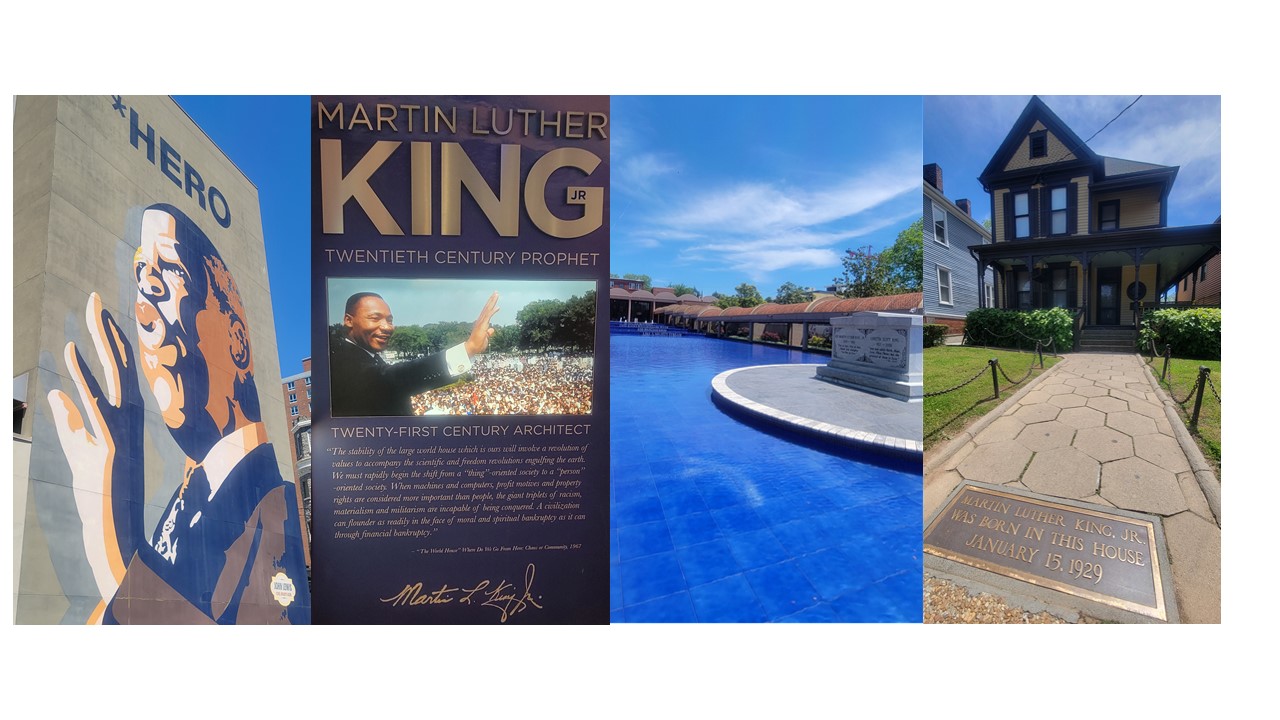 Alabama
Freedom riders
In 1961, a small interracial band of "Freedom Riders" challenged discriminatory laws requiring separation of the races in interstate travel. They were attacked by white segregationists, who firebombed the bus. Images of the attack appeared in hundreds of newspapers, shocking the American public and spurring the Federal Government to issue regulations banning segregation in interstate travel.
Son of the South
Tour participants got to meet Bob Zellner, an American civil rights activist who was the first white field secretary of the Student Nonviolent Coordinating Committee (SNCC) in 1962 and was involved in numerous civil rights efforts. He published a memoir about his activism that was adapted into the 2020 film Son of the South. 
Montgomery, Alabama
Equal Justice Initiative Legacy Museum
The Equal Justice Initiative Legacy Museum was founded in 1989 by Bryan Stevenson, a widely acclaimed public interest lawyer who has dedicated his career to helping the poor, the incarcerated, and the condemned. The initiative is committed to ending mass incarceration and excessive punishment in the United States, to challenging racial and economic injustice, and to protecting basic human rights for the most vulnerable people in American society.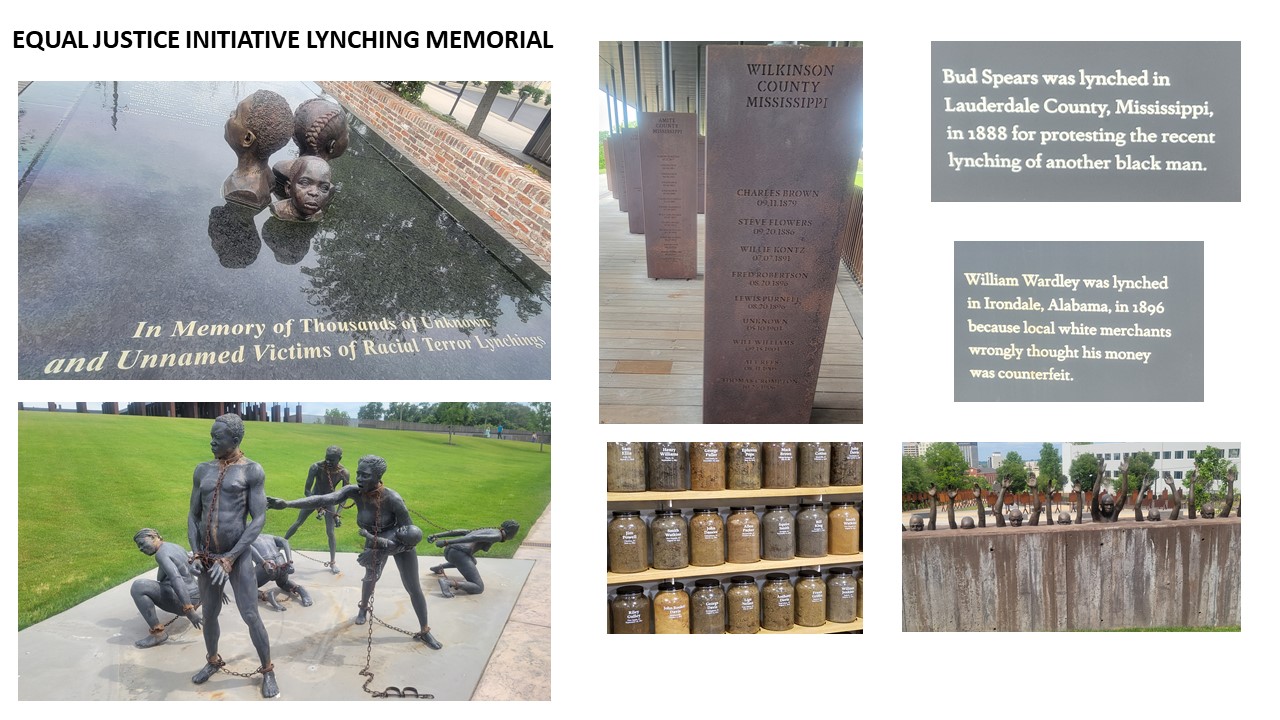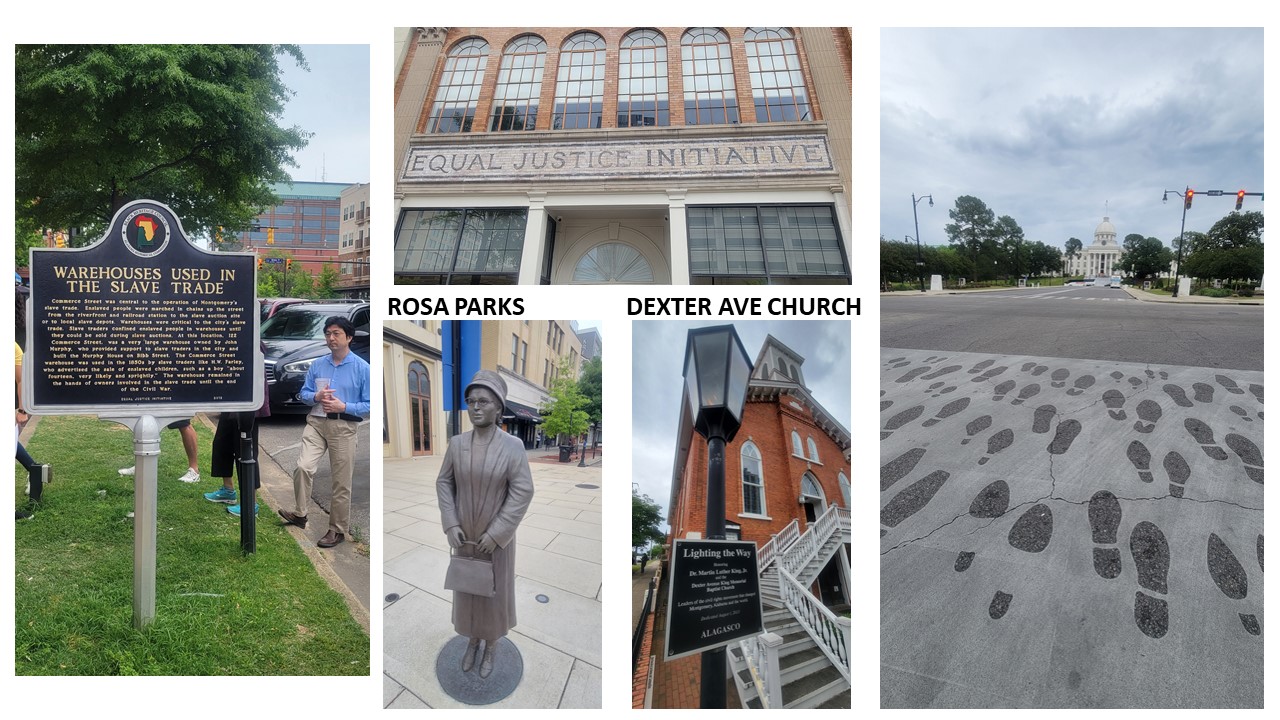 Father of modern gynecology/tribute to the mothers of gynecology
Tour participants learned about Dr. James Marion Sims - the "father of modern gynecology," who performed shocking experiments on enslaved women - and visited the Mothers of Gynecology Monument, by American artist and activist Michelle Browder, a tribute to three enslaved women who were subjected to these inhumane practices.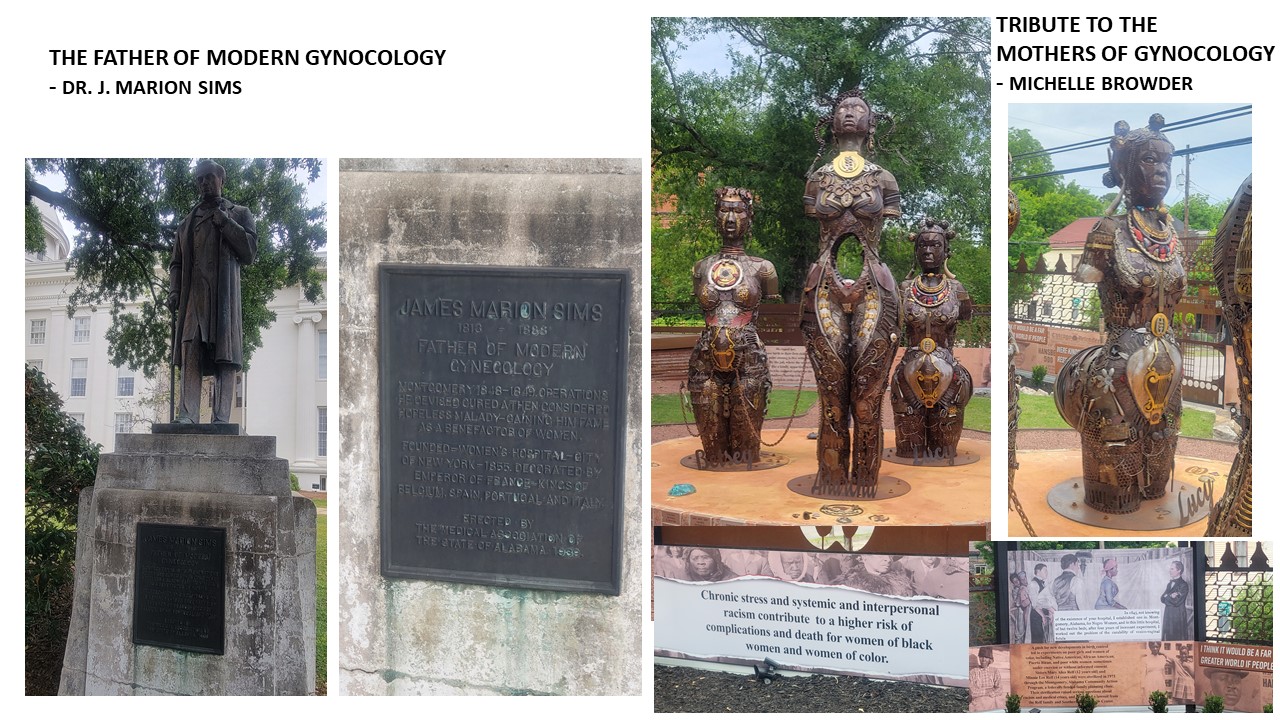 Glorifying the past
In 1926, Roderick MacKenzie, a London-born artist and adopted son of the Cotton State, was chosen to paint the eight murals which adorn the Alabama Capitol's dome. These prominently displayed images glorify the oppressive history and how economic wealth was built in the region.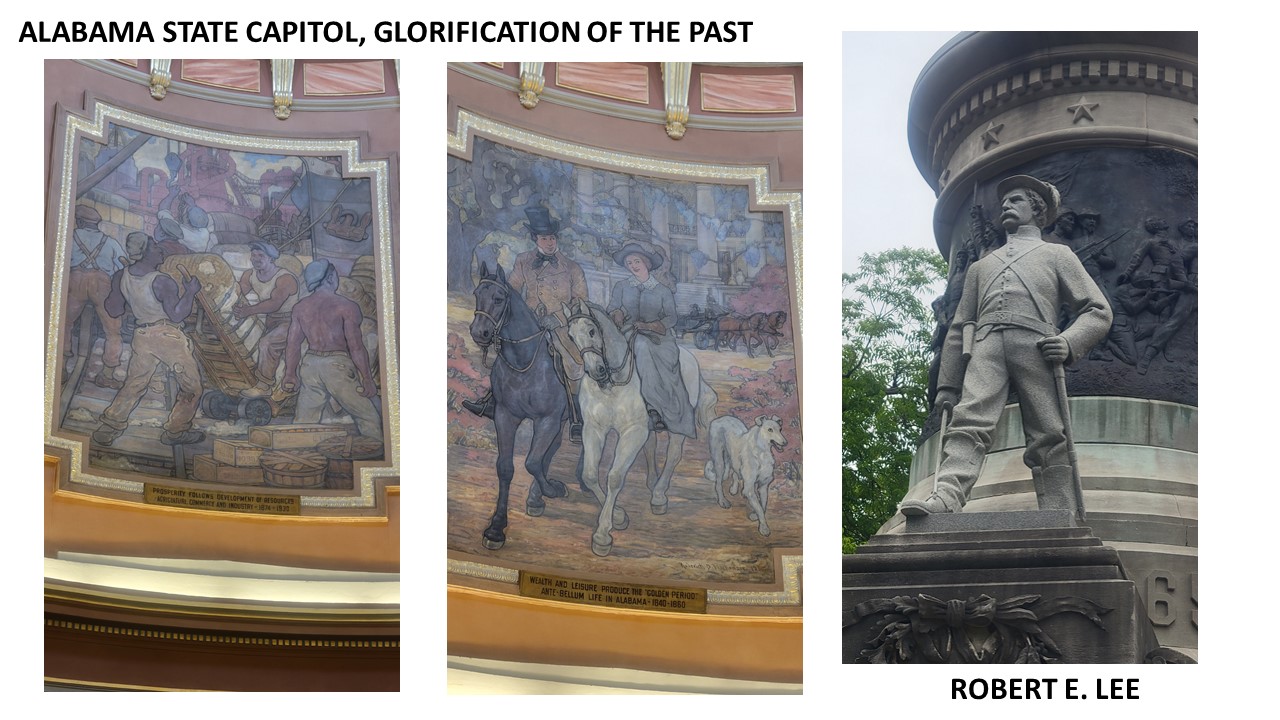 Birmingham, Alabama
Kelly Ingram Park
Kelly Ingram Park contains emotionally powerful sculptures depicting the civil rights struggle in Birmingham. The park served as an assembly spot for activities of the Southern Christian Leadership Conference and other groups in the movement. 
The Children's Crusade
The 16th Street Baptist Church is still an active church in the Birmingham community today, in spite of its tragic past. During the Civil Rights Movement, the church served as a meeting place for the organization of marches and other civil rights activities.
In 1963, the church was bombed, resulting in the deaths of four young Black girls: Addie Mae Collins, Cynthia Wesley, Denise McNair and Carole Robertson. This event galvanized the federal government to take action on civil rights legislation.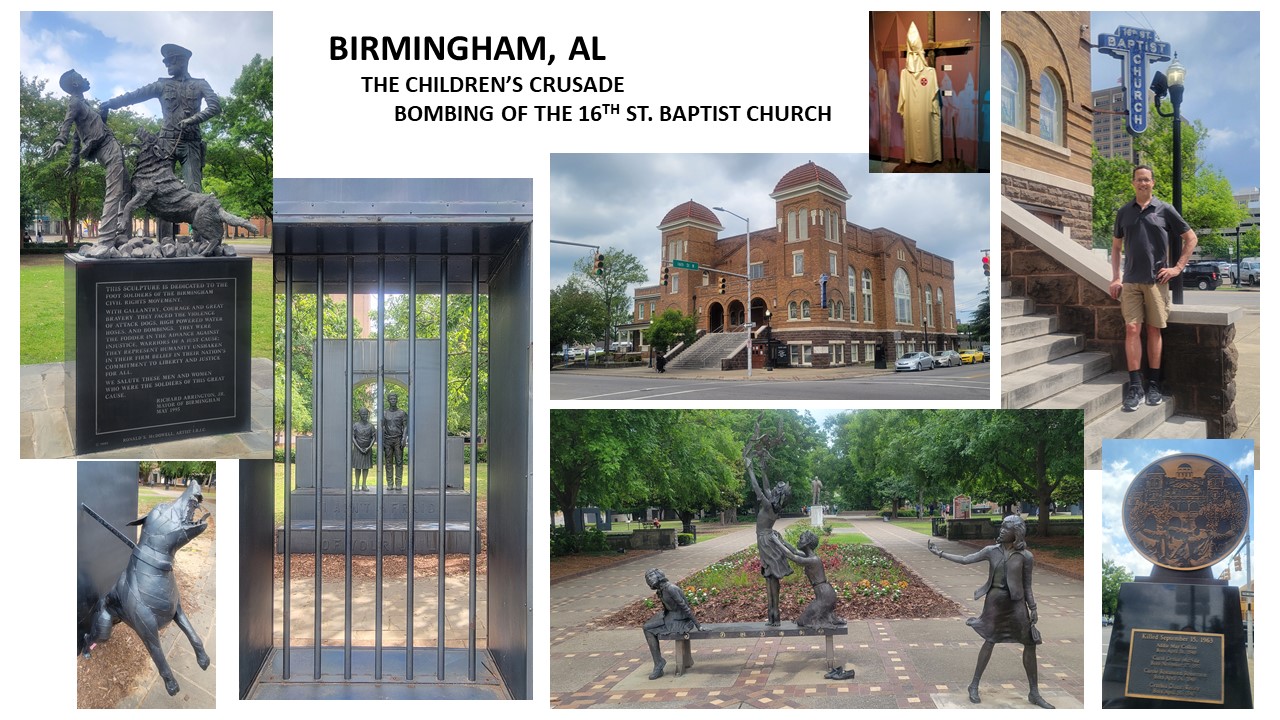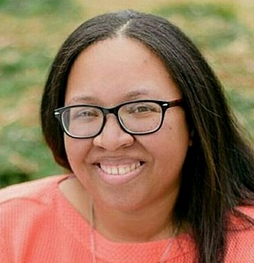 Participants also got a chance to speak with current civil rights activist T. Marie King. King is the Director of Youth Pathways and Experiences at the Jones Valley Teaching Farm in Birmingham, AL, and is committed to empowering the younger generation. 
Tuskegee, Alabama
Learning tour participants had the opportunity to meet with Bernard Lafayette, a member of MLK's inner circle and field leader of the Student Nonviolent Coordinating Committee (SNCC).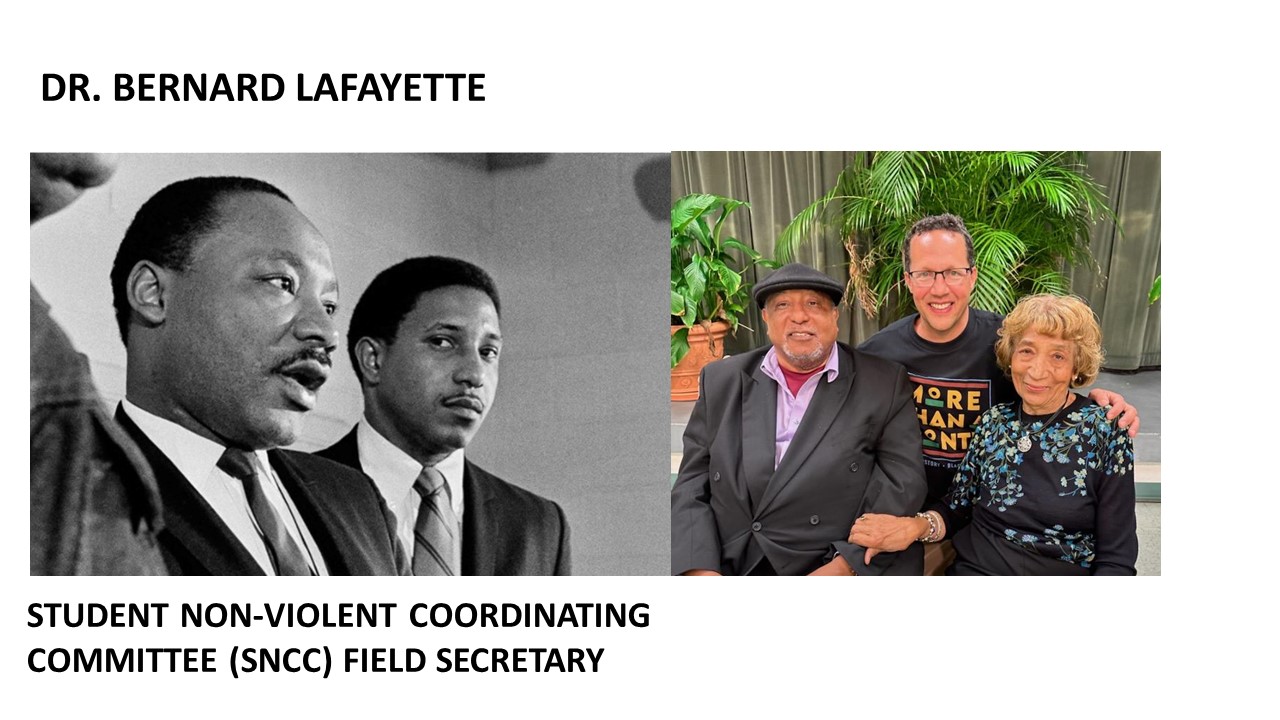 Selma, Alabama
Edmund Pettus Bridge
Participants walked across the Edmund Pettus Bridge and reflected on the Selma to Montgomery March for voting rights in 1965. 
Brown Chapel A.M.E. Church
During the 1960's the church became known throughout the world for its role in the Voting Rights Movement that brought about the "Bloody Sunday" confrontation with state and local law enforcement, and the subsequent march from the church to the state capitol in Montgomery.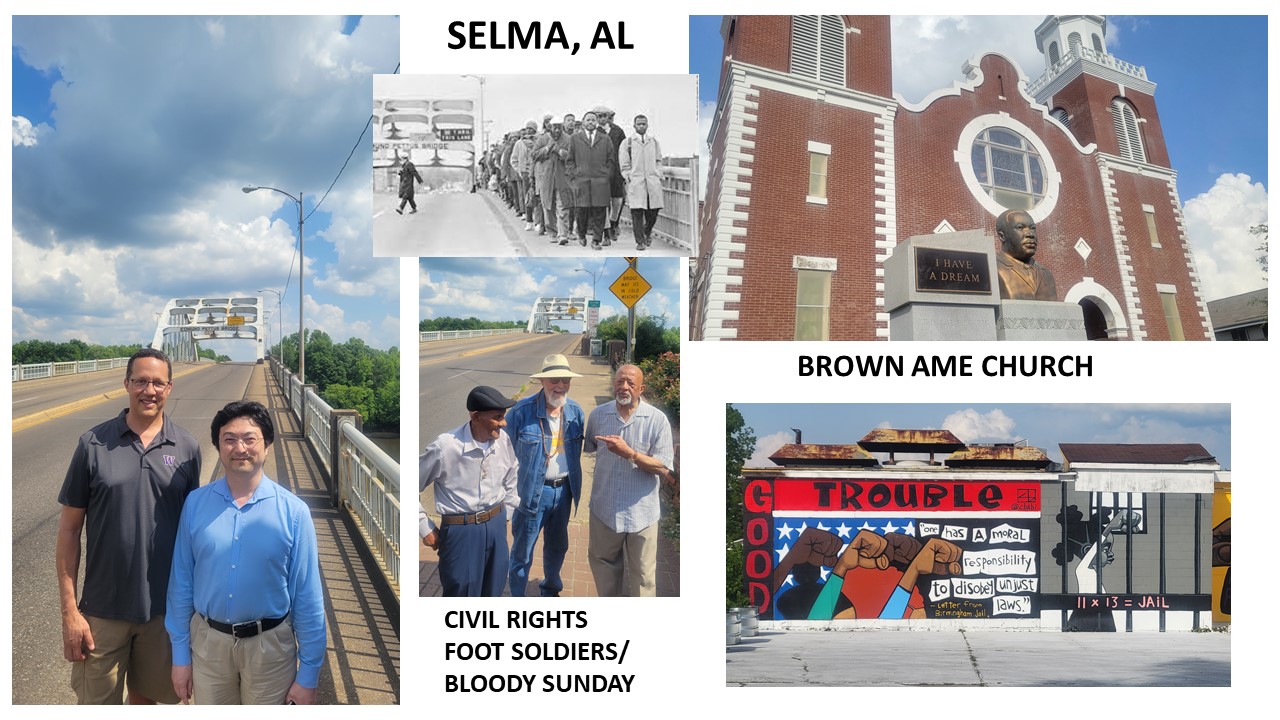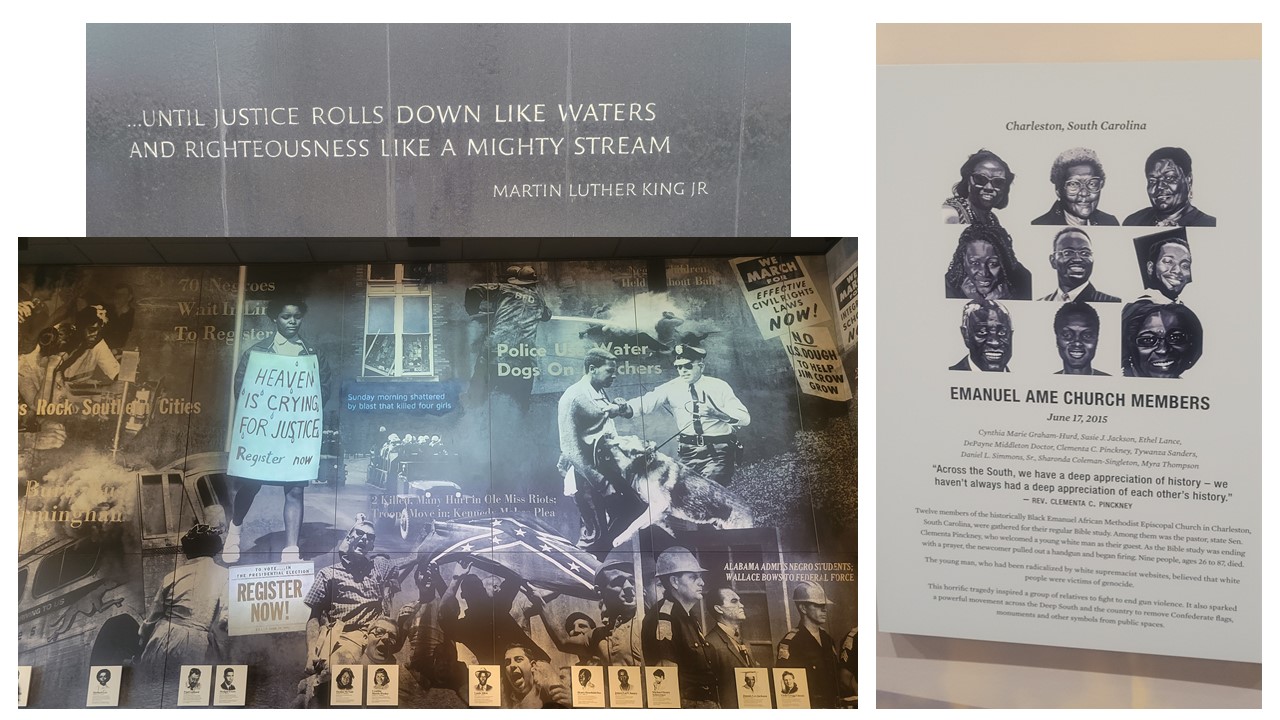 Lessons learned
As the Diversity, Equity and Inclusion Program Manager for the Department of Medicine, Sean Greenlee welcomed the opportunity to "visit, learn about and hold space in historical locations that had previously only been accessible through text books, movies and stories for many of us." 
"To walk on these sacred  grounds and hear first-hand accounts from civil rights foot soldiers who were instrumental in the movement was truly a transformative experience," said Greenlee.
Dr. Masaoki Kawasumi studies skin cancer prevention and skin cancer disparities. As a cancer researcher, he wanted to know more about social determinants of health and the root causes of health disparities.
He became an EDI peer trainer for UW Medicine, which opened a door for him to collaborate with other educators who also want to achieve racial and ethnic equity. 
"The speeches given by the directors and civil rights activists during the trip were very impressive and memorable, and I was deeply moved by their lived experiences and by standing at the places where the civil rights movement actually happened," said Kawasumi.

"This trip to Georgia and Alabama was an absolutely transformative experience for me to learn more about U.S. history with other educators who are committed to make a difference."
Health Justice: Addressing Racism and Promoting Health Equity
Kawasumi said he's surprised that racial health disparities have been recognized for decades but little progress on reducing health disparities has been made. "Multi-level interventions across multiple generations are required to achieve health equity."
Based on what he learned from the trip, he created a teaching unit for students: "Health Justice: Addressing Racism and Promoting Health Equity."