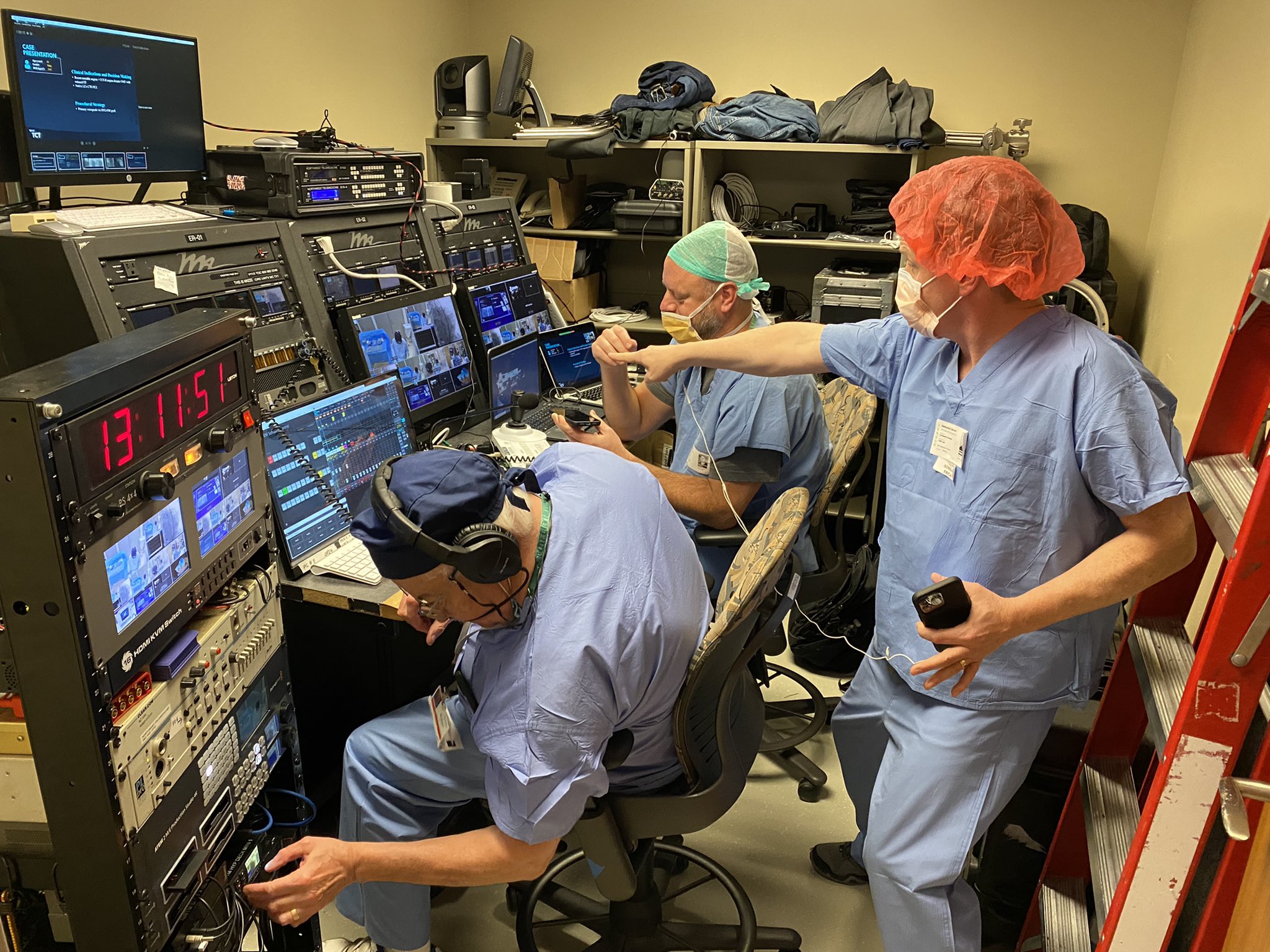 November 10, 2021
Cardiology faculty perform live, televised cardiovascular procedures
Faculty and members of the UW Cardiac Cath Lab, the Division of Cardiology and UW Heart Institute recently performed two live, televised cardiovascular procedures that were broadcast to over 20,000 global conference participants.
Scroll for more

Back to top
The Trans-Catheter Therapeutics (TCT) Conference, a premier conference for interventional cardiology professionals, was held virtually with limited in person attendance November 4-6, 2021 in Orlando, Florida. One of the most exciting aspects of the annual conference is the live streaming of cardiac procedures performed by specialists from around the globe. 10 centers are selected to perform a total of 26 live cases, with 6 centers based in the US and 4 abroad.
Selected centers are charged with identifying an exceptionally complex or rare case for which the center is one of only a few worldwide with the unique ability and capacity to treat. The teams then perform the procedure in an hour-long segment while providing engaging educational content and fielding questions from an expert panel at the conference center.
"It requires incredible expertise at every level of care from the cardiovascular technologists, to the Cath Lab nurses, to all the multidisciplinary care providers involved," says Dr. James McCabe, Medical Director of the UW Cardiac Cath Labs.
On November 5th, two cases were live streamed by care teams here at the UW: Drs. Bill Lombardi and Kate Kearney performed a successful complex coronary intervention, followed later that day by a catheter-based mitral valve replacement by Drs. Gabriel Aldea (Surgery), Burkhard Mackensen and Srdjan Jelacic (Anesthesiology and Pain Medicine), Christine Chung and James McCabe.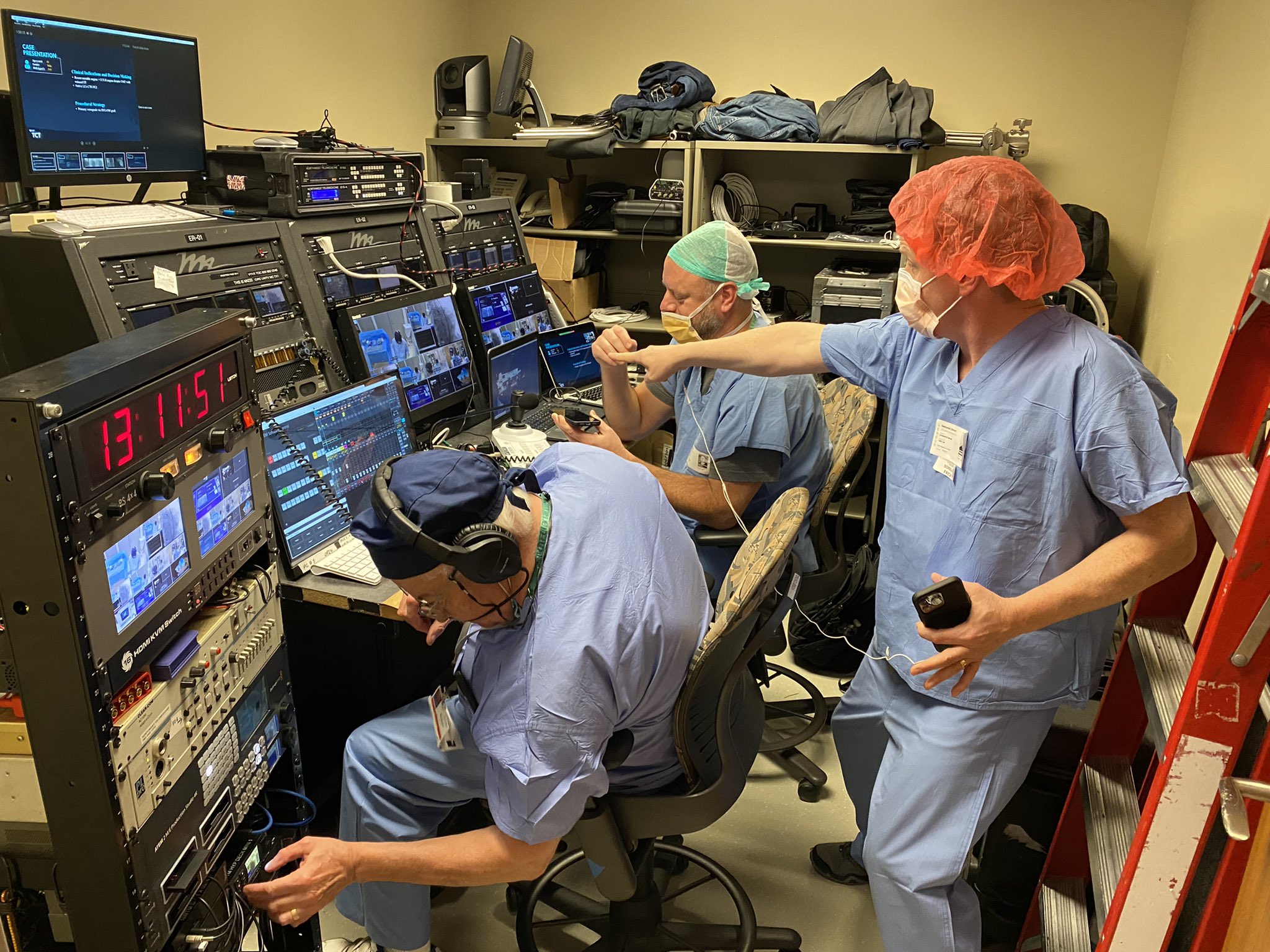 Photo courtesy of G. Burkhard Mackensen via Twitter, @gb_mackensen
"Getting ready for our LIVE case to #TCT2021 today. As you can see, our live transmission team from BARON&COMPANY who will make it all happen is ready to go already. @UWMedHeart @jamiemccabeMD"
This year's procedure marks the 13th TCT Live Case performed by Dr Bill Lombardi, clinical professor in the Division of Cardiology and director for Complex Coronary Artery Disease Therapies in the UW Heart Institute. Since coming to the UW in 2014, Lombardi has worked to integrate and develop the live case skillset within the interventional cardiology group.
"I'd like to acknowledge all the expertise, and collaboration, and practice, and ingenuity, and leadership – locally, nationally, and internationally – brought to bear for these Live Case procedures," raves McCabe. "It was amazing. UW gets selected for these events specifically because of this special group of doctors and the staff they train, learn from, and grow with."
As a live broadcast, cardiology professionals from around the globe were able to watch the procedure and listen to the discussion and commentary in real time. Many took to social media to follow along and share their impressions from the exciting event.
The University of Washington Heart Institute (@UWMedHeart) chronicled some of the engagement and responses to Friday's procedures.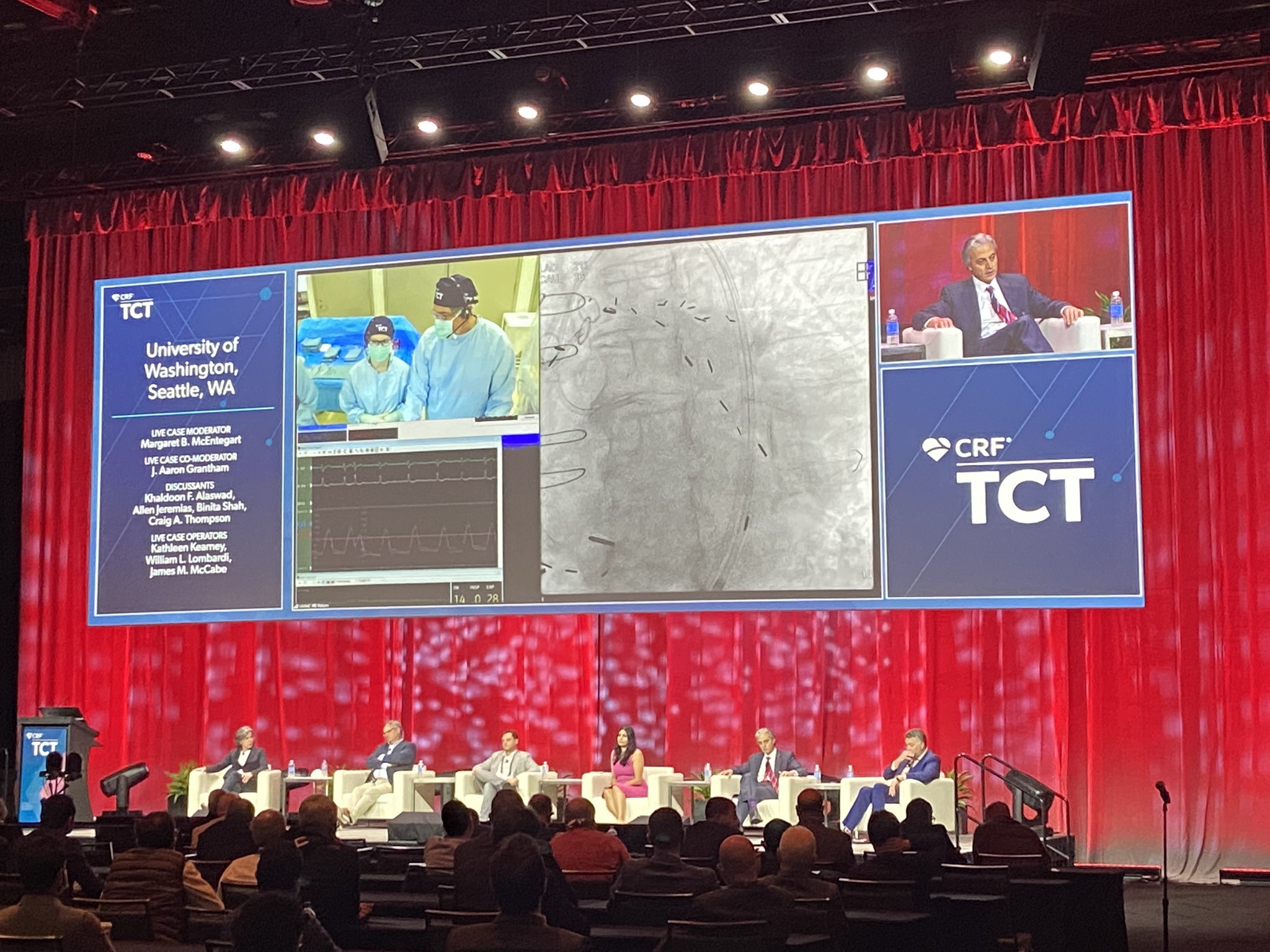 Photo Courtesy of Nadia Sutton via Twitter, @nadia_sutton
"@KateKearney4 and @DrBillLombardi showing us all how it's done. #TCT2021 @TCTMD @crfheart @mbmcentegart @JAG24851 @DrAllenJ @BinitaShahMD @KAlaswadMD @UWCathLab"