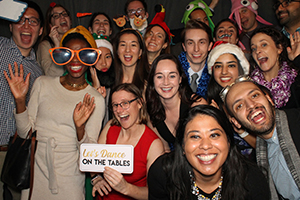 January 7, 2020
We ended the decade with a much-deserved recognition and celebration of our exceptional housestaff.
Scroll for more

Back to top
2019 recap
2019 brought many milestones to celebrate. Apart from transitions in the chair and director, our faculty and staff continued to grow and department faculty, trainees, students and staff received over 250 honors, teaching awards and special appointments. 
56 of our UW medical students matched into IM residency programs accross the country and 5 into MED/PEDs. Of those, 70 percent matched into their first choice program, and 90 percent into top three ranks, with 13 joining the UW IM residency program.  
Building on the success of our Visiting Scholars Program, we created the Visiting Resident Scholars Program. 
Seattle IM residency matched 65 individuals from 37 medical schools around the world. 52 percent of the class were women and 12 percent were underrepresented in medicine. We also welcomed four people into the newly created Physician Scientist Learning Pathway. Of the 14 incoming Boise IM interns (out of 1200 applications), 36 percent were UW WWAMI graduates. 
Our clinicians generated 1,120,376 wRVUs (including combined bill activities) during the nearly 178,000 inpatient and 296,000 outpatient visits at our hospitals and clinics. We also provided 4,775 eConsults. 
Our faculty were awarded 898 grants (new, supplemental, and renewals) totaling $219,075,597 and their research was featured in: 
Congratulations on your accomplishments and thank you for all your hard work!
Looking forward
2020 starts a new decade with many opportunities. As we look forward to a new year in both our personal and professional lives, I'd like to share some highlights I am particularly excited about.
Planning ahead
As I have been visiting with many of you and listening to the current state of the department and hopes for the future, I look forward to collectively identifying department-wide strategic goals as well as ways to define and measure our success. You will hear more about these efforts and ways to participate as we start our work. The priorities we develop together will assure that we best use our efforts to move the department in the direction that we desire.
Faculty growth and recruitment, Department climate
We already know of over 200 new faculty joining us this year, and this number will continue to rise. Please join me in welcoming each and every one of them. New additions are also an excellent way to learn more about us. Are we being inclusive? What can we learn from what others experience? What is our culture ("the way we do things") and our climate ("the way things feel"). I challenge us all to be open to the thoughts of others and examine where we could improve.
Remodeling and facilities improvements
In addition to remodeling and facilities improvements in department and divisional spaces, we are renovating space that will provide better teaching areas and improve meeting spaces available in the Health Sciences Building. Stay tuned for updates on our progress. 
Full integration of Northwest Hospital into UW Medicine
This integration – which included transitioning 124 Physicians and Advanced Practice Professionals to UW/UWP employment, 56 into the Department of Medicine in six divisions – brings with it many new colleagues and opportunities to expand our clinical practices. I am grateful to so many of you who have worked to make this integration successful and look forward to charging ahead with becoming one.
Meet and greets
It has been wonderful meeting with so many of you and hearing your thoughts and ideas. I am continuing to schedule meet and greet sessions at our various locations. The next one will be at the Northwest Campus on Friday, Jan. 31, followed by Feb. 28 at South Lake Union (details below). I look forward to meeting many more of you.
2020 will be an exciting year. I wish you all the best and look forward to working together and celebrating our achievements and accomplishments.
---
Upcoming Meet & Greets with the Chair
Friday, January 31, 2020, 4:30-5:30pm
Northwest Hospital Board Room, Medical Office Building, Suite 202
Friday, February 28, 2020, 4:30-5:30pm
South Lake Union, Room F106