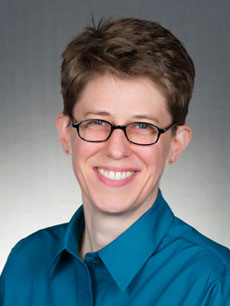 November 25, 2020
Faculty Spotlight: Dr. Moe Hagman
Our November Faculty Spotlight is on Dr. Moe Hagman, associate professor in the Division of General Internal Medicine and the program director for the Internal Medicine Residency Program located in Boise, Idaho.
Scroll for more

Back to top
For Dr. Melissa, "Moe", Hagman, being a teacher is just who she is.
Hagman is an associate professor in the Division of General Internal Medicine and the program director for the Internal Medicine Residency Program located in Boise, Idaho. Residents in the program have the opportunity to train at several community and regional medical centers including the Boise VA Medical Center, St. Luke's Regional Medical Center, and Saint Alphonsus Regional Medical Center. They also have the opportunity to live and learn in Dr. Hagman's hometown.
Growing up in the Pacific Northwest, Hagman "wears [her] Husky purple with pride." After graduating with a B.S. in Zoology from the College of Idaho, Hagman came to the University of Washington School of Medicine for her Medical Doctorate. She remained with the UW for her internal medicine residency, spending her first and third years in Seattle and her second year at the Boise VA Medical Center, as well as completing chief resident year at the University of Washington Medical Center in Seattle.
For me, the UW is all about the people. I feel lucky to have been trained by Dr. Wallace, Dr. Wipf, Dr. Bremner, Dr. Paauw, Dr. Sutton, Dr. McDonough, and others. I remember the joy of my chief resident year and the monthly dinners we had together with Dr. Back.
Hagman then joined the faculty as a Hospitalist and later the Palliative Medicine team where she "had the gift of learning palliative care under Dr. Farber." In 2008, Hagman returned to her passion of teaching.
I lived the magic of being an Associate Program Director with Dr. Steinberg and his team. The opportunity to move back home to Boise to continue the UW teaching tradition there in 2011 was tremendous. My wife Mindy and I miss our colleagues in Seattle, but we are happy to be home and to work with the Boise Residency team of Dr. Krug, Dr. Christopher, Tanya Conger, and Sandi Laursen.
Hagman and the Boise Residency Program train 34 residents each year in outpatient primary care and hospital medicine, as well as opportunities for subspecialty electives and quality improvement projects.
Together the residents, faculty, staff, and I work to graduate curious, compassionate, well-rounded internists who teach, lead, advocate for patients, work well in teams, and serve the people of Idaho and the Northwest United States. Recruiting residents to the program and learning side-by-side with them in patient care is a dream job.
Many residents who train under Hagman and her team chose to follow in her footsteps, staying in Idaho to practice medicine and teaching others when they have the chance.
I am most proud when I see a current or former resident teaching others. Sometimes they teach others something that I have taught them. That makes me smile.
Like much of the Pacific Northwest, the small city of Boise offers many outdoor activities including hiking and kayaking on the Boise River Greenbelt and skiing in the Bogus Basin. When she is not teaching or in the hospital, Hagman enjoys life in her hometown with her wife, Mindy.
Most recently we have enjoyed several day trips on our ATV. Usually we go all day without seeing anyone other than cows and ground squirrels.