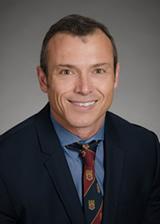 October 29, 2020
$28M grant awarded to study hormone replacement for Veterans with traumatic brain injuries
Dr. Jose M. Garcia, associate professor in the Division of Gerontology & Geriatric Medicine, awarded a multi-site Veterans Affairs grant to study treatments for Veterans with traumatic brain injury.
Scroll for more

Back to top
Impact of TBI
Traumatic brain injury (TBI) occurs in approximately 10 percent of military personnel deployed to Iraq and Afghanistan, of which 80 percent are mild in severity (mTBI). An estimated 25 percent of these patients with traumatic brain injury also suffer from adult growth hormone deficiency (AGHD), symptoms of which can be similar to mTBI and can cause it to be over-looked and go undiagnosed.
Patients with mTBI and AGHD can experience symptoms including fatigue, sleep disturbances, cognitive deficits, and chronic pain, leading to increased disability and poor quality of life (QoL). Other problems commonly seen among these Veterans include metabolic changes (e.g. obesity and dyslipidemia) and autonomic alterations (e.g. arterial hypertension and reduced heart variability) associated with higher cardiovascular risk and increased mortality.
Growth Hormone Replacement Therapy
In civilian, non-mTBI patients with AGHD, growth hormone replacement therapy has been observed to reverse body composition changes, increase exercise capacity and bone density, improve dyslipidemia, and enhance quality of life. Preliminary studies also suggest a possible benefit of GHRT on cognition and quality of life among civilian patients with severe TBI.
GH replacement therapy in Veterans with mTBI and AGHD
This placebo-controlled, double-blind, parallel-group randomized clinical trial (RCT) aims to test the safety and efficacy of growth hormone replacement therapy to improve the quality of life of Veterans with mTBI and AGHD. The multicenter study, led by Garcia and team, will be implemented in 20 VA Centers across the U.S. over the next four years to test this intervention.
If growth hormone replacement therapy is found to be a safe, effective therapy in improving the outcomes measured, this study is likely to transform clinical practice by delivering a new treatment option to a patient population that may number in the tens of thousands within the VA, and hundreds of thousands worldwide.