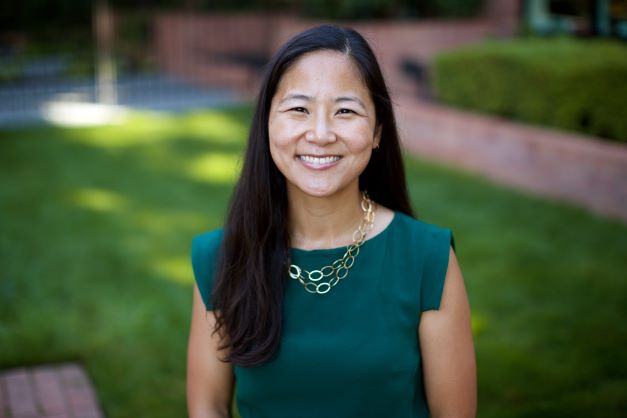 January 28, 2022
Faculty Spotlight: Dr. Mary Kwok
Dr. Mary Kwok, clinical associate professor (Hematology) recalls a quote from her early mentor, Dr. Ola Landgren, "The future of myeloma is bright!"
Scroll for more

Back to top
Taking her mentor's words to heart, Mary Kwok, MD has centered her career around brightening the future of myeloma through patient care, research and education.
Early experience and mentors
Kwok attended the University of Washington for her undergraduate degree before earning her Medical Degree from the Uniformed Services University of the Health Sciences in Bethesda, Maryland. She then completed her Internal Medicine residency and Hematology-Oncology fellowship at Walter Reed Army Medical Center and was a clinical fellow with Myeloma Service at the National Cancer Institute.
"I spent the first part of my career in the military," she said, "which has opened the opportunity for unique experiences.  I got to practice medicine at a NATO base in Afghanistan but also in Hawaii and many years in DC.  Fun fact – Former President Bush's dog, Sulley, was our therapy dog in the heme-onc clinic!"
Kwok had several mentors throughout her training helped shape her approach to medicine and passion for patient-care and education.  
"Dr. Robert Gasser was my first attending in IM as a medical student (and then again as an intern and several times as a resident!).  He was an ID doc , a former White House physician and one of the most thorough clinicians I knew," she recalls. 

"He taught me so much about how to approach a medicine patient, how to break bad news and how to teach." 
Her passion for Multiple Myeloma, a cancer causing plasma cells to produce abnormal antibodies, was inspired by international Myeloma specialist, Dr. Ola Landgren. "I loved his excitement when thinking about myeloma," she said, "and I think his outlook really frames how I think about the future of myeloma and myeloma research."
"An amazing job"
After fellowship, Kwok served as a staff hematologist-oncologist at Walter Reed and as the Director of the Hematology-Oncology Fellowship Training Program at the National Capital Consortium where she was honored with the Military Treatment Facility Teacher of the Year award in 2019.
Upon her transition to the University of Washington, Kwok established her practice with the Multiple Myeloma Group at the Seattle Cancer Care Alliance.  
In thinking about what she enjoys most about her work, Kwok said "there are three aspects that make this an amazing job – first, I love having the privilege of being on the same team as patients with cancer and walking alongside them in their diagnosis and treatment. 

"Second, I get to work on plasma cell disorders all the time – myeloma research is active and treatment options are growing so fast – it is exciting! 

Lastly, I love working with the heme-onc fellows and IM residents – it is fun to see trainees learn, but I have also learned so much from working with trainees!"
 She also looks forward to doing more clinical research in Waldenstrom's Macroglobulinemia (WM).
Learn More
Waldenstrom's Macroglobulinemi
A rare plasma disorder in which abnormal white blood cells produce a protein that accumulates in the blood, impairs circulation and causes complications.
"Treatments for WM are rapidly evolving and are becoming more tolerable for patients," she said.  "The SCCA is a referral center for WM in the region so I am excited to see what we can do in this space."
Outside of the clinic
Outside of the clinic, Kwok has enjoyed serving on the the American Society of Clinical Oncology's (ASCO) Oncology Training Program Committee for the past several years. The committee serves as a collaborative platform for oncology program directors to share ideas and recommendations around training program best practices. This collaboration proved especially useful early in the Covid-19 pandemic, where Kwok said the group mobilized to adapt the training landscape to new requirements and safety protocols.
"People were able to share sample call schedules, discuss to how to transition to an online platform for academics, and plan for celebrating graduation virtually - all things that seem very normal now but was not so straightforward back in March 2020!"
Kwok also maintains an interest in global hematology and for the past several years, has been working with medical students and fellows in the Hematology Division at the University of Tirana, Albania. She enjoys the opportunity to present lectures and discuss cases, noting it's "also interesting and humbling to see how hematology is practiced in a developing country."
Personally, Kwok enjoys spending time in her garden.  
"This may sound weird but we have an amazing vermicompost system that makes our garden grow like crazy!" 
"It is just amazing to see plants grow from tiny seedlings and yield a harvest – at least enough for our family!  There are so many life lessons that come from the garden and I love being out there with my kids."