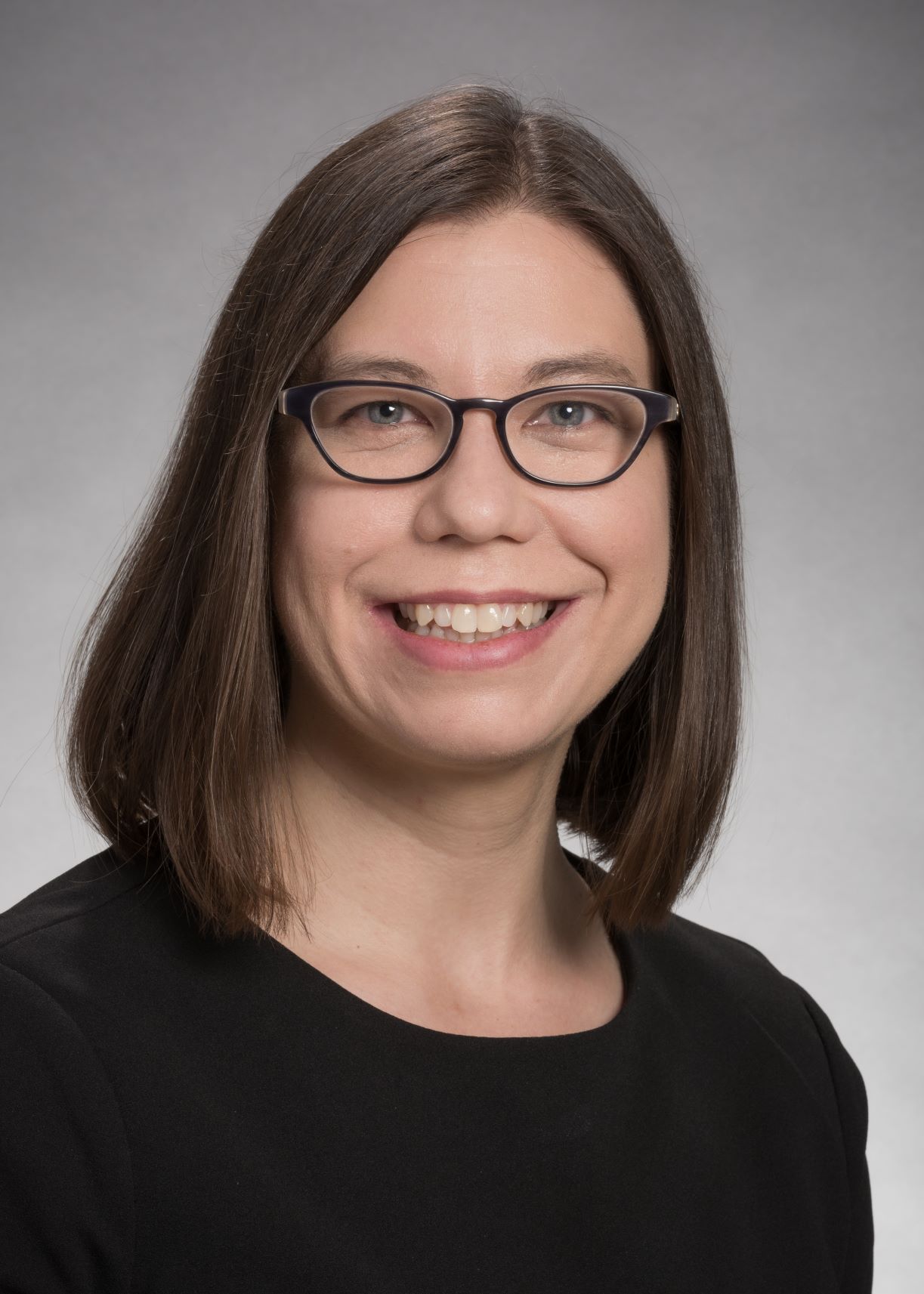 September 24, 2021
Faculty Spotlight: Dr. Katherine Bennett
As part of Healthy Aging Month, our faculty spotlight for September is Dr. Katherine Bennett, assistant professor in the Division of Gerontology and Geriatric Medicine.
Scroll for more

Back to top
As part of Healthy Aging Month, our faculty spotlight for September is Dr. Katherine Bennett, assistant professor in the Division of Gerontology and Geriatric Medicine.
Originally from Cleveland, Ohio, Bennett graduated medical school from the Ohio State University College of Medicine & Public Health and has been a member of the UW Department of Medicine since her Internal Medicine Residency and Geriatric Medicine Fellowship.
"My mentor, Dr. Elizabeth Phelan laid the groundwork for my career, has supported me in my growth from resident to fellow to junior faculty, and has inspired me with her tireless work to improve the care of older adults," shares Bennett.
After training, Bennett went on to become an active and integral member of the division faculty and wider geriatrics professional community. She is currently a clinician scholar in the Division of Gerontology and Geriatric Medicine and a nationally recognized advocate for the care of older adults. She practices at the Senior Care Clinic and on the inpatient geriatrics and internal medicine services at Harborview Medical Center
"My interest in the care of older adults was influenced by my love for my grandparents and my mother's role modeling as a home health and hospice nurse," she says, "but what really ignited my desire to become a geriatrician was a job I fell into in high school as a Unit Assistant in a local nursing home (making beds, passing out snacks, taking residents to the dining room)."
"That job spurred my interest in the complexity of syndromes and diseases more common as we age and a strong desire to improve the care of older adults."
Bennett trains the next generation of geriatric medicine providers as the Program Director for the Geriatric Medicine Fellowship Program and as the Assistant Director for Education of the Northwest Geriatrics Workforce Enhancement Center (NW GWEC).
"I'm often asked what made my geriatric fellowship experience so special. My immediate response is Kate Bennett," says Dr. Grace Wu, fellowship program alum '18 who is currently practicing at Kaiser Santa Rosa Medical Center.
"She puts so much care and intention into every aspect of the program and epitomizes the ideal program director and mentor. I am without doubt a better physician and educator because of her."
She is also a recipient of the Health Resources and Services Administration (HRSA) funded Geriatrics Academic Career Award, a four-year career development award, limited to 26 nationally, that trains clinician educators in geriatrics to improve the care of older adults through leadership in healthcare transformation and interprofessional education.
"My two passions are teaching and improving the care of older adults (at the bedside and through education), and every day I get to come to work to do what I love," says Bennett.
Project ECHO-Geriatrics
Bennett has served as Founding Medical Director of Project ECHO-Geriatrics since 2016. Project ECHO (Extension for Community Healthcare Outcomes)-Geriatrics, supported by the NW GWEC, is an interprofessional program to improve the primary care of older adults in the region through monthly mini-didactics and case discussions/consultations. The UW program is the first ECHO program designed specifically to train primary care trainees in geriatrics and has trained over 1000 health professionals, many of whom are family medicine trainees and clinicians across Washington and the Pacific Northwest. Dr. John Scott, Director of Telehealth for UW Medicine, has been a key advisor in this work.
Bennett leads collaborations with other early adopters of geriatrics ECHOs across the nation and has advised national and international colleagues on launching similar ECHOs at their institutions. Bennett has even had the honor of being invited by Senator Patty Murray to testify in front of the U.S. Senate Health, Labor, and Pensions Committee regarding the importance of geriatrics education and the use of ECHO as a tool to reduce disparities in care.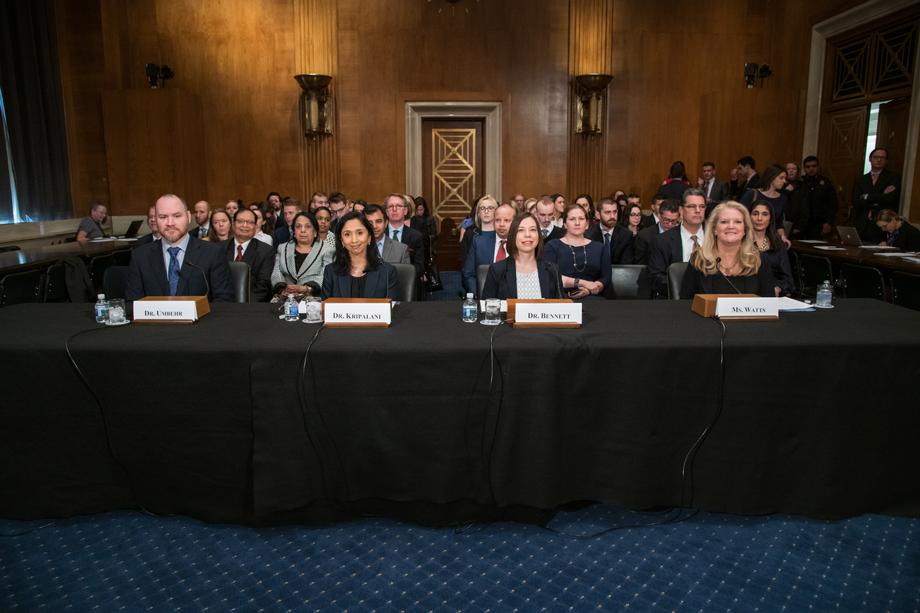 Dr. Bennett and colleagues providing expert testimony at a hearing of the U.S. Senate Health, Labor, and Pensions Committee regarding the importance of geriatrics education.
"I continue to be inspired by each older adult I meet and use their stories to remind me of why the work I do is so important," she says. "We are all aging, and everyone deserves an opportunity to focus on what matters most to them and to age in place whenever possible."
Bennett recently piloted an ECHO program for Area Agency on Aging (AAA) staff in partnership with a nurse planner at Seattle/King County Aging and Disability Services. The six-week program focused on age-friendly care of older adults (covering subjects such as fall prevention and cognitive impairment) including case discussions. As part of the project evaluation, Bennett found the program significantly improved case manager self-efficacy for providing age-friendly care to their older adult clients.
Bennett recalls, "It was inspiring to hear about the challenging work they are doing during the pandemic and fantastic to play a part in bridging community and clinical care. I have led multiple projects in collaboration with local and regional AAAs (such as creating and evaluating an AAA Practicum for fellows, residents, and nurse practitioner trainees that immerses them in resources that promote aging in place) and value that partnership deeply."
Bennett and her team's work on Project ECHO-Geriatrics was published in the Journal of Graduate Medical Education and earned a Presidential Poster Award from the American Geriatrics Society in 2017.
Professional Service
Beyond her clinical and teaching roles, Bennett enjoys collaborating with fellow professionals to advance the practice of geriatric medical education and clinical care.
From 2019-2020, Bennett served as the President of the National Association for Geriatric Education, a non-profit organization that leads advocacy for geriatrics education and fosters networking and collaboration across academic geriatrics and gerontology programs, and she's currently the Immediate Past President and a board member.
As a relatively junior leader of the organization, Bennett led several initiatives over the last couple years, including advocating for better support and resources for older adults throughout the Covid-19 pandemic and helping to initiate a Diversity and Racial Equity Workgroup to facilitate advocacy for equitable opportunity and care for providers and patients.
"It was a challenging but satisfying experience to lead an organization of respected leaders in the field and see the work they collectively contributed to improve the lives of older adults and their caregivers during the pandemic," she says.
Bennett enjoys working on national efforts to improve Geriatric Medicine Fellowship Training and has recently been involved in redesigning the evaluation system for geriatric medicine fellows as part of the ACGME Milestones 2.0 Workgroup for Geriatric Medicine. Locally, she serves on Graduate Medical Education committees, most recently as a longtime member and prior chair of the GME Policy Committee (formerly known as the Institutional Resident and Fellow Advisory Committee).
"I am energized by the interprofessional nature of geriatrics and the opportunities I have to collaborate locally and nationally with those who care so deeply about improving the lives of older adults."
Bennett is also committed to professional development. This year she was selected to be one of 15 nationally selected UCSF/Tideswell Emerging Leaders in Aging scholars which will involve intensive leadership training and coaching as well as a mentored leadership practicum. Her practicum will focus on the integration of interprofessional trainees into the Project ECHO-Geriatrics program as well as national dissemination/replication of this work. 
Outside of Medicine
Outside of medicine, Bennett spends much of her free time with her family and enjoying the scenery of Seattle and the Pacific Northwest.
"My two sweet boys fill my life with smiles, laughter, and (at least for the older one) questions that keep me on my toes," Bennett says. "My favorite pandemic activity has been mindful walks through the neighborhood, seeing the world through the eyes of a toddler."

"I am also an avid sports fan and enjoy rooting for my original home teams from Cleveland/Ohio."