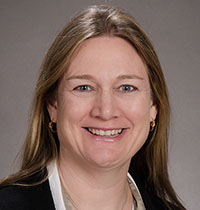 January 3, 2022
Highlighting our accomplishments from the past year and plans for 2022.
Scroll for more

Back to top
Happy new year! I cannot think of how to thank all of you enough for your continued hard work and positivity as we enter 2022. Clearly, we have endured challenging times and as much as I hope that it is behind us, it keeps on coming. But, how extraordinary are our many accomplishments from this past year in this context?
The Department and all of you have had a stellar year.
Despite the ongoing global pandemic, I am proud to report growth in our clinical volumes, research activities and funding, and philanthropic funding.
Our faculty were awarded 878 grants (new, supplemental, and renewals) totaling $264,888,237.
Our department continued to lead the fight against the COVID pandemic. We staffed three additional ICUs during the second surge, allowing minimal disruption to outpatient and surgical services.
Our telehealth services grew with 112,767 visits (compared to 34 annual visits in pre-pandemic years), and our clinicians generated 1,428,961 wRVUs (including combined bill activities) during the 338,879 inpatient and 664,925 outpatient visits at our hospitals and clinics. We also provided 4,657 eConsults.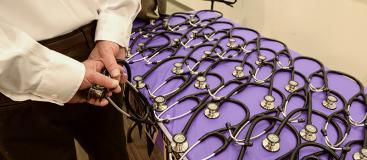 We had a wonderful and historic match this year. We worked hard to recruit a more diverse class, as well as increase our recruitment of physician-scientists this year and made great strides in both. 26 percent of our Categorical track and 19 percent of all the 52 interns identify as URM (using AAMC definitions), the highest numbers yet for our program. In addition,18 percent of the categorical track are physician-scientists.
The inaugural class of the new Department of Medicine, Division of Medical Genetics Genetic Counseling Graduate Program (the first in Washington state, second in WWAMI region) began classes this fall.
Department faculty, trainees, students and staff received over 250 honors, teaching awards and special appointments.
We were also able to focus on our future, as we developed a five-year strategic plan for the Department of Medicine together.
Recruitment
In addition to recruiting numerous talented and mission-driven faculty, staff and trainees, we were fortunate to recruit/appoint several outstanding new leaders this year.

In 2022, we are recruiting for new division head of Rheumatology, and for an Associate Chair and Program Director for Diversity, Equity and Inclusion.
Leading through uncertainty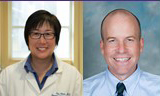 Drs. Lisa Chew (General Internal Medicine) and John Lynch (Allergy and Infectious Diseases) were most deserving recipients of the prestigious David B. Thorud Leadership Award – the highest leadership honor at the University of Washington – and recognized for their skill in navigating the uncertainty of 2020.
I, along with six other faculty and staff from the Department of Medicine, was also nominated for the Thorud award.  Additionally, seven staff members from the Department of Medicine were nominated for the Together We Will Awards, celebrating outstanding staff contributions made during recent extraordinary challenges.
Diversity
One of my priorities has been to cultivate a nurturing and inclusive environment. While 2022 will be devoted to much work towards this goal, we have made some significant advances in 2021:
Diversity Academic Development Scholars Awards
We established the Diversity Academic Development Scholars Awards to assist highly qualified and meritorious trainees in their transition to the roles of clinician-scholar, physician-scientist, research-scientist, and principal investigator as newly appointed Assistant Professors. The inaugural awards went to Drs. Crystal Brown, Chase Cannon, Erik Kimble, Helen Stankiewicz Karita, and Kennedy Ukadike. They presented their work at Medicine Grand Rounds in September.

Gender Equity Council
We launched the Gender Equity Council to advise me on matters related to gender equity, make recommendations to ensure an equitable and inclusive environment in the department, and plan and implement activities that promote gender equity.
Over 60 volunteers put their name forward to serve on this committee, which allowed selection of a council that includes representation across divisions, titles/ranks, genders, and sites. They have been quite productive, launching a lunch series, establishing Women of Excellence Awards, highlighting achievements of women, and developing programs to advance and support women in the department. I also wrote a chair's blog on our initiatives in this area: Give her a reason to stay.
We also highlighted 18 women in 2021, as part of our staff spotlight and faculty spotlight series. If you would like to be involved in our gender equity efforts, please consider becoming a Department of Medicine Gender Equity Ambassador.
LGBTQ+ Council
We also formed the LGBTQ+ Council, to advise me on matters related to gender identity and sexual orientation equity, make recommendations to ensure an equitable and inclusive environment in the department, and plan and implement activities that promote sexual orientation and gender identity equity. This has emerged as an often overlooked group with a need for specific engagement (see BRIM climate survey).
Bias Reduction in Internal Medicine
The Department of Medicine participated in the Bias Reduction in Internal Medicine (BRIM) study, joining 18 other Departments of Medicine across the U.S. As part of the BRIM study, three climate surveys were administered to faculty and staff in each division in the Department of Medicine – the first before any intervention, second after 6 divisions received a workshop and third after all divisions received a workshop.
New Health Equity Pathway
We developed the inaugural Medicine Residency Program's Health Equity Pathway, designed to equip residents in applying anti-oppression frameworks to combat the structural origins of health inequities in clinical care and advocacy.
Vaccine outreach
Department of Medicine faculty, trainees and staff have volunteered to help UW Medicine administer over 489,000 vaccine doses. Our faculty have also volunteered to serve as preceptors for medical students at drive through COVID vaccination sites for first responders and at community vaccination sites to help increase access for underserved communities. Additional efforts to help increase access to vaccination include establishing a program for home health providers to be able to administer the vaccine to homebound elderly patients, and to increase testing for rural and underserved populations.
The Year Ahead
Strategic Plan
Our 2021-2025 strategic plan is focused on four core priority aims that will ensure supporting excellence in research and clinical care, our culture, our people, and our teaching. We commit to:
Lead in innovation of patient care delivery and research
Nurture a supportive, collaborative culture where equity, diversity and inclusion are at the center
Invest in our trainees, staff, and faculty
Elevate and sustain excellence in teaching
Thank you
Congratulations on your accomplishments and thank you for all your hard work. We will continue to move forward and build a stronger department, together. I look forward to it.